Page 73
Belgium

Netherlands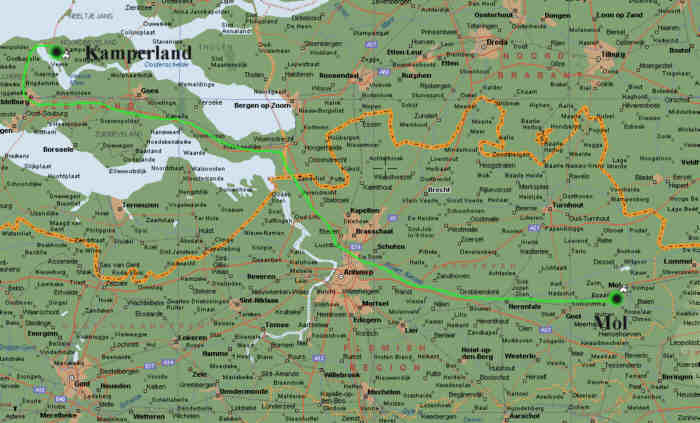 ---
DAY 251
Mol, Belgium to Kamperland, Netherlands
September 7, 2000
A drying wind had blown during the night so that when morning came my tent was completely dry, a very rare event. We cycled in rain most of the day however. I didnít take a single picture in Belgium and thatís too bad because there were some spectacular cattle there. I canít believe I said that, but at this moment at least I canít think of anything else that stood out or was different than the rest of this part of Europe. My view of Belgium was very narrow, restricted to what I could see along the railroad track one day, and along the road the next day. There was no opportunity to go sightseeing. We were just passing through enroute to Holland. Back to the cattle. I donít know the breed, unfortunately. They were a buff color, and had the burliest bodies! They seemed to be bulging with muscles, their hindquarter were huge like those of a quarter horse. Iíve never seen cattle with such muscles.
We had been looking forward to cycling this day because it was to be flat, flat, flat. It was flat but there was a doozy of a headwind, a headwind the whole way, nearly 100 miles. It might as well have been uphill. The advantage of hills (perhaps the only advantage) is that there is a downhill somewhere ahead which gives a break, a chance to stand on the pedals to rest the aching bottom. But in a headwind on the flat one has to pedal constantly or come to a complete stop. In addition to the wind there was rain, of course. Gudrun was with us again and we each took turns Ďpullingí.
Maybe I just didnít see it because of the wind and rain but there was no sign or recognition made of the border between Belgium and Holland. When we finally reached Checkpoint at 79 km. we inquired and were told that we were now in Holland. Darn! I had left Belgium and hadnít had an authentic Belgian waffle. Checkpoint was just beyond the village of Woensdrecht at the Non Plus Ultra Cafe. They served Belgian waffles so I had one there because that was as close as I could now get to having one in Belgium. It was a light and crispy thing, mostly air really, topped with an especially delicious whipped cream. Strawberry season was past to my great disappointment, but I talked them into serving my waffle with whatever fruit they had. That was pieces of orange, slices of kiwi, and wedges of a wonderful green melon. It was super.
Once we left Checkpoint at Woensdrecht we knew we were in Holland because we rode along dikes and canals and we could see windmills. The windmills were the modern type, looking like airplane propellers and they were going at full speed due to the great wind. It must normally be windy in Holland or no one would have invested in dozens of those very expensive looking windmills. At one point we had a nuclear power plant to the left and windmills to the right. The power plant may have been in Belgium. We rode high on the top of a huge dike from which we had views of a sea on either side, to the north the Oosterschelde and to the south the Westerschelde. We rode alongside big canals and small canals and over big bridges and small bridges. The only hills we encountered were manmade hills for access to bridges and overpasses.
Finally after more than eight hours of pedaling, more than twelve hours on the road, we reached our camp near Kamperland. There actually is a community called Kamperland. Our camp was a couple of kilometers outside of town, the Camping de Molehoek. We were nearly the last to arrive so there were few camping spots left but it didnít matter as it was all flat and grassy. Every spot was a good spot except that we were relegated to the back forty, a Ďkilometerí, Joan said, from the toilets and showers. It wasnít quite that far, but it was too far for those middle of the night trips to the WC. Of course it was raining and we were bone weary, but we pitched our tents before heading for a mediocre dinner. I ate and ran, leaving before the mayorís speech at 8:00, to get a shower and go to bed.
Goodbye, Alice
---
Today's Music
---
Netherlands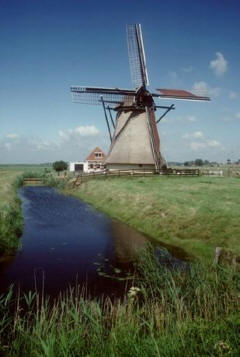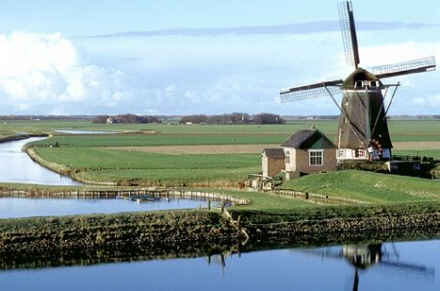 Dutch Wind Power
The windmill, a traditional symbol of The Netherlands, was actually invented in Persia in the 7th century and later copied by Europeans. Only a scant thousand windmills still stand in The Netherlands, and all of them are designated national monuments. Outside of Leiden, a windmill museum offers a firsthand look at the structures that for centuries have provided Dutch farmers with power.
---
Switzerland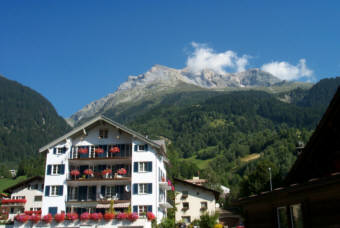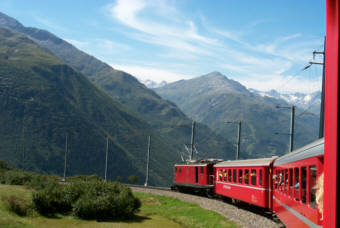 Switzerland Train Segment (Day 236, Page 68)
---
Odyssey Riders and Staff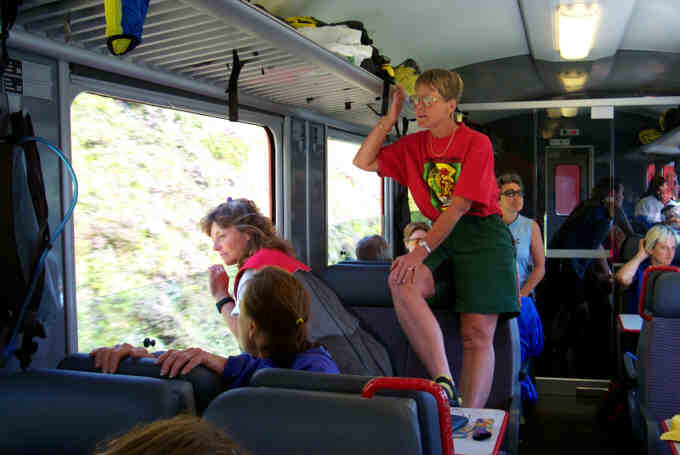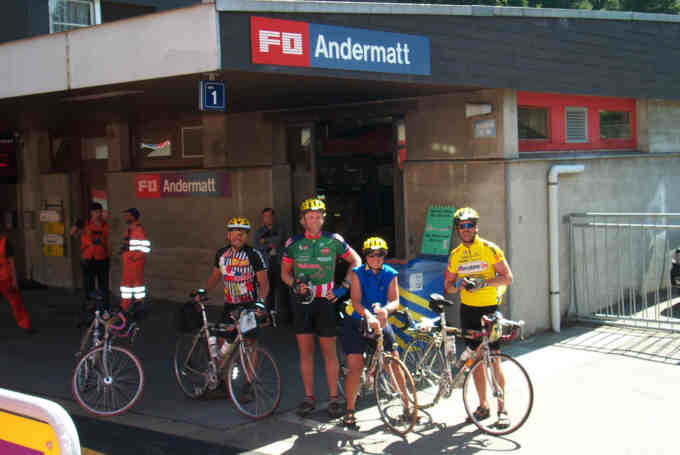 ---
Previous Page (Page 72) Next Page (Page 74)