Page 78
Australia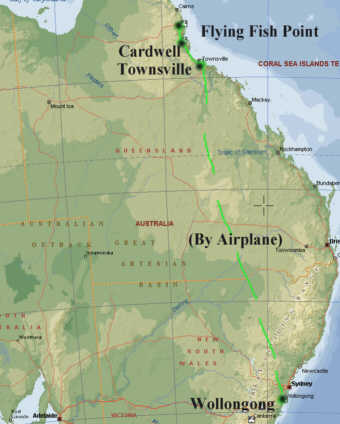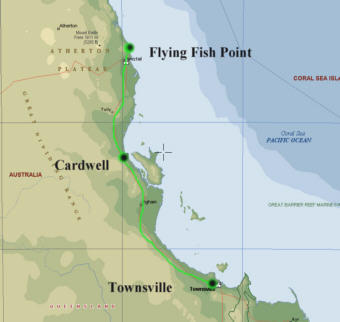 ---
DAY 267
Wollongong Layover Day
September 23, 2000
I hadn't set my alarm because getting rested was a priority for the day. When I did awaken I was astonished to find that it was 9:30! The breakfast hour is apparently extended on weekend days because breakfast was still available and others came even later than I. This time I had a British breakfast: eggs, bacon, baked beans and broiled tomatoes. I even lingered over a second cup of coffee and enjoyed a chat with Karen-Ann of TK&A who is Australian and had many stories to tell about her adventures when she lived here.
After that unusually relaxed beginning to my day I sat on my bed the rest of the day (except for the part where I took a nap) and tried to get current with the web page reports. I almost made it. I worked until 8:30 when I went to dinner. The cooks had prepared food for hundreds but only a handful came, everyone was in Sydney.
On the way back to my room I was waylaid by the Olympics, the trampoline event was underway, so I stopped to watch television with the crowd that had gathered. How high they jumped! That was my only Olympic event for the day. I had hoped to finish my work early and have time to stretch out on a sofa in front of the big screen television.
I wasn't alone, Shirl had also decided to dedicate the day to work. She worked until one in the morning. But we were happy because it feels good to have accomplished so much.
G'Day! Alice
DAY 268
September 24, 2000
We were going to the Olympics! Because of the distance and great crowds of people all wanting to go to the same place on the same trains at the same time, we had to get an early start, leaving before breakfast was available. Shirl and I walked in the early morning darkness to the Fairy Meadow Station. A half dozen other riders were also heading for Olympic Village. A ticket for an Olympic event was good for any public transportation on the day of the event which was a great idea, simplifying the journey for everyone.
Our tickets were for the Athletics competition which was in the Stadium. It was easy to locate the Stadium because the routes in Olympic Village were well signed and uniformed assistants were everywhere. We were hungry and wanted breakfast before going into the stadium. That was not a good idea. The lines were so-o-o long, and we were too excited and impatient to want to stand in any of them but we had no choice. Shirl solved the problem for herself by getting dim sum because there wasn't a line for the Chinese food. I wanted coffee as well as food which meant I couldn't settle for dim sum as they didn't sell coffee. I stood in one of the McDonald's lines, there must have been at least twenty, because of their reputation for fast service. They were trying! There were so many employees behind the counter that they were almost a solid mass. Of course they were always in each other's way but they helped each other by shouting out what they wanted and it would be passed hand over hand to them. When I finally got my order Shirl had long since finished her dim sum. The moral to the story is that one should take food and drink with them to the Olympic games.
We found our seats easily and were pleased to see that we sat in the very center of the end of the stadium opposite the Olympic flame. The dark clouds that had threatened rain had blown away while I was standing in the line at McDonald's. It had become a bright sunny day. We saw four events: Men's Discus Throw Qualifying Round, Men's 110 m. Hurdles Round 1, Women's Heptathlon Long Jump, and Women's Marathon Finish. The discus throw seemed to be too hard. Only two men managed to throw the discus past the qualifying line. The best part was the finish of the women's marathon. They had run most of the route on the streets of Sydney, but to finish had to enter the stadium and run one lap plus a bit more. That was exciting even though it wasn't a close race. I was pleased to see that the audience cheered every runner, in fact the last to finish received more applause than the first. But I was disappointed to learn that the medals wouldn't be presented until the evening session.
After the session we wandered about the park to see all of the buildings and to soak up some of the Olympic spirit. It was a carefree, happy crowd and it was fun to be a part of it. I thought the Olympic Village was magnificent. The buildings were handsome and the pedestrian traffic flowed smoothly thanks to the many signs and uniformed volunteers. It was a joyful event. We had some lunch and then stood in line for the Olympic Superstore. We had to wait an hour for our turn to go inside, standing in lines just like at Disneyland. Once we finally wound our way to the head of the line our bags were sealed in big plastic bags that we had to carry with us. It was their solution to the shoplifting problem. I chose gifts for my grandchildren, not easy to do for teenagers. The hottest item and most difficult to get a turn to see for all the shoppers were the pins, the sort that I've been collecting for my hat. There were hundreds of different designs produced. Pins could be purchased singly or as a set. The sets of pins were mounted and framed, but were very expensive, costing hundreds and hundreds of Australian dollars.
After shopping we returned by train to Wollongong in time for dinner.
G'day! Alice
Wollongong to Townsville
September 25, 2000
It had been great staying at the Wollongong University because it was while there that we had seen the Olympics, a wonderful lifetime experience and memory, and because the people working there were so kind and helpful. But we had to leave, flying to Townsville on a chartered Quantas plane in the morning. Our bikes and bags had been loaded onto trucks a couple of days earlier because they would be going overland to Townsville. After breakfast we were taken by bus to the airport where everything went well. We were given seat assignments which had not happened on previous chartered flights and told we had to sit in them. Mine was in the very last row of the plane, a spot I would not have chosen for myself. It was a short flight and I feared the plane would land before my row was served lunch. One benefit I discovered of being the last served is that the coffee and tea are served immediately which means you can actually have it to enjoy with the dessert.
It was rough flight and a rough landing but the plane stayed shiny side up which is the main thing. We were bussed to our new campsite, The Sun City Caravan Park. The trucks with our bikes and bags aboard were parked there but no key staff members had arrived, delayed because new rental cars had to be arranged. So we sat and waited. One of the Park's owners explained that there wasn't enough space on the ground for all of our tents, so 18 little teepee type bungalows were available without charge for our use. We had been told so many times not to make a move without the staff because we might mess up the agreement or terms and conditions that TK&A had negotiated with the vendor, that I thought it best to just sit and wait, feeling certain that TK&A would want to assign the bungalows to the staff members anyway. Other riders though scurried to stake a claim to bungalows and by golly that was a smart move for they were allowed to keep them.
Eventually the staff arrived, the trucks were unloaded, and we could retrieve our bikes and bags and pitch our tents. By the time I had done all that the day was nearly gone.
During the wait I had read a brochure about the Billabong Wildlife Sanctuary. It was too late in the day to go then because of the long wait for the trucks to be opened, so I made arrangements to go the next day. That would mean I couldn't cycle to Cardwell but I would rather cuddle a koala anyway.
G'day! Alice
DAY 270
Townsville to Cardwell
September 26, 2000
When I discovered that the Billabong Wildlife Sanctuary was only 17 km. south of Townsville I was excited. This was a place where I could hug a wombat and cuddle a koala! That was the one thing I just had to do in Australia so I set about making the arrangements. Katie White and Shirl wanted to go too. Cathy Livingstone, a kind Australian who works at the Sun City Caravan Park where we were camped, generously offered to drive us to the park and back. Since this meant we wouldn't be able to cycle the 100 plus miles to Cardwell, our next destination, I made bus reservations to Cardwell for the three of our bicycles and us. We were all set. We would give up the bicycle ride to Cardwell in order to visit the Sanctuary.
In the morning we loaded our bags on the gear truck as usual, keeping our bikes because TK&A won't carry them, and anyway we needed them. Then we saw Pat, the volunteer burdened with all the record keeping, to sign off-route for the day. We stowed the bikes in a back room and were whisked away in Cathy's car to the Billabong Sanctuary.
It was terrific! We had only two hours, which wasn't enough to see all the wildlife so we focused on the warm and fuzzy ones. The koalas were simply adorable. They were placid, peaceful and patient. We petted them and posed for pictures with them but we weren't allowed to hold them, that was scheduled for later in the day and we would miss it. One koala seemed to want to cuddle and twice climbed onto me but the ranger said that a koala's ribs are very fragile and I shouldn't let it do that. All of the others were content to stay on their branches and just be petted. We learned that a koala sleeps 19 hours a day because they don't get enough energy out of the hard to digest eucalyptus leaves to be up and about longer than that. Some fell asleep while we petted them. The koalas at the sanctuary are given a nutritional supplement every day. Maybe it is to give them an energy boost to help them cope with all the tourists.
Everywhere we went there were kangaroos! It was just awesome! They were all very accustomed to humans and expected to be fed a grain mixture that they nibbled out of our hands. We could pet and play with them all we wanted! One had a joey in her pouch with just his hind legs and one ear protruding. I reached in and pulled out his tail but he didn't come out to play. There were wallabies too but they were very shy and couldn't be approached. A wallaby is a tiny and delicate thing compared to the big and robust kangaroos. Trailing along behind the kangaroos were flocks of beautiful ducks called Grass Whistling Ducks who ate any grain that the kangaroos missed.
Wombats are short but sturdy and heavy little animals and I got to hug one! She was a female and although only two years old she had a pouch and already weighed 20 kilos, quite a lapful! She will weigh 30 to 40 kilos when full grown. She had been hand-raised and was as docile as could be, just a big, hairy lump really. Wombats are herbivores and eat grass. They are cousins of the koala and the resemblance is plain to see in the eyes and shape of the nose.
We had time to see only a few birds, one was a Corella and he was quite a character. The sign on his perch warned that he liked to steal jewelry. I wanted to stand beside him for a photo but he was determined to get to my hat with all of its souvenir pins. It was a hoot! We also saw the Cassowary of which only a thousand or so are left in the wild. Unfortunately they get killed on the highways. We also saw the Emu, one was at loose and didn't mind being stroked. There was a Kookaburra and a Wedge-tailed Eagle in separate cages.
When we returned to the Sun City Caravan Park we got our bikes and cycled to the Transit Center in Townsville to pay for our bus tickets. We left our bikes there ready to load onto the bus later in the afternoon and went to the ReefHQ Aquarium for a quick tour. Townsville is the headquarters of the Great Barrier Reef. At the ReefHQ Aquarium they have enclosed a portion of the coral reef that is growing just as it would in its natural environment. There are over 5000 living coral reef creatures contained in the aquarium. It was an opportunity to see the Great Barrier Reef without getting wet!
The bus ride to Cardwell was two hours long. I had thought I would stay glued to the window for the two hours to see what I had missed by not doing the ride, but it was 100 miles of sugar cane fields and eucalyptus forests. I was content with an occasional glance and happy not to have expended the energy to cycle such a boring road. Not only was it boring, but also it was rough and narrow with no shoulder. Instead I watched a movie, Instinct. I can see why they show movies on the busses in Australia. Later in camp people said that it was the most boring ride since Baja.
The roads in Australia are the most dangerous we have seen in a long time. There are no bike lanes and usually no shoulders. The traffic is fast, can be heavy, and the drivers have no time for cyclists. There are an inordinate number of huge trucks which have run some of us off the road. Cars have hit two riders, one was only bruised but still can't ride, and the other suffered a broken hand as well as bruises and road rash. Both of these accidents happened at intersections (where the riders had the right of way) so the speed of the cars was moderated somewhat.
Having a great time in Australia!
G'day! Alice
DAY 271
Cardwell to Flying Fish Point (Innisfail)
September 27, 2000
In Cardwell we had camped in a sports field and the local Lion's Club members had cooked for us. They were friendly folks, as all Australians seem to be. We haven't enjoyed such a warm reception since South Africa. When we say 'thank you' to Australians, they reply, 'No worries'.
This was a short day, only 100 km., but all of it was sugarcane fields. We learned a few things about sugarcane and there was even a sugar museum where the really curious could stop to learn more. One thing we learned is that only one crop can be grown a year and that as each field is harvested it is replanted so that the harvest period can be extended over a couple of months. Pieces of the stem are planted in rows to begin the new crop.
Sugarcane is transported to the sugar factory by trucks in large mesh bins or by special sugarcane railroads. It is a very narrow gauge track that appears to reach every sugarcane field. The cars are mesh bins and are pulled by miniature engines. Because of the sugarcane railroads we had a record number of cautions on the DRG. 'CAUTION RR Tracks' was repeated 21 times!
Our destination was the Flying Fish Caravan Park at Flying Fish Point. Since it was a short day we arrived earlier in the afternoon than is usual for us but so had everyone else. The camping space was very small and although there was space enough for Joan's tent and mine, everyone was crowded together and latecomers were hard pressed to find a spot. The main activity was clothes washing because it was sunny and clotheslines were available. I wanted to focus on web page reports so I resisted the urge to wash clothes but I did take time to wander about taking a few pictures. On returning to my tent I noticed that I had pitched my tent in a bad spot. There were trees everywhere and while only a bit of a branch of one extended over my tent, it was some bird's favorite bit. That bird had bombarded my tent with you-know-what and what a mess! I counted 18 direct hits! Denise advised, 'Leave it until it is dry and it will just brush off.' Wrong!
Dinner was a hike away and then a wait because it wasn't ready, but we were on the point of Flying Fish Point with water on both sides and a sunset on one side, so it was a pleasant wait. My favorite food here is the fruit. Paw paws, pineapples, bananas, and watermelons are ripe now and served to us in generous quantities. We had a delicious dessert salad of paw paw and banana with liquid custard cream poured on top.
G'day! Alice
---
Today's Music
---
Australia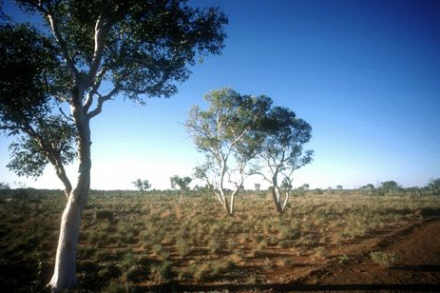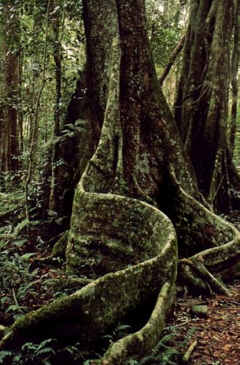 Eucalyptus Woodlands
More than 500 eucalyptus species grow in Australia, where they are known as gum trees. Hardy, fast-growing eucalyptus plants thrive in a variety of environments—even in Australia's hottest, driest areas. The leaves of the plants contain an aromatic oil that is used in cold remedies. Some species of eucalyptus are among the world's tallest trees, reaching heights of 91 meters (299 feet).
Australia's Ancient Trees
The giant buttressed tree is one of many large old trees in Lamington National Park, located in Queensland, Australia. Part of Queensland's Gold Coast region, the park lies in a volcanic area, and its fertile soils support a rich rain forest ecosystem, allowing many distinctive plant species to achieve long life spans. On some of the park's mountains are Antarctic beech trees more than 3,000 years old. On nearby Hendersons Knob are 1,000-year-old palm trees.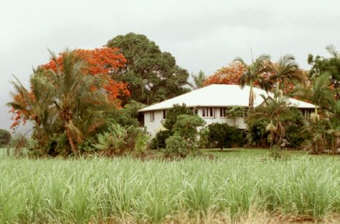 Sugarcane Plantation in Cape York Peninsula
The Cape York Peninsula has the ideal climate for cultivating sugarcane—hot all year and humid during the summer monsoon. Sugar is one of Australia's major commodity exports. The sugarcane plant, a perennial herb that grows to a height of 3 to 6 meters (9 to 20 feet), contains sugar within its many-jointed stems. The cane is cut at or near the surface of the ground, stripped of its leaves, and trimmed at the top near the last mature joint. It is then transported to the sugar factory, where a grinding mill extracts the sugar.
Queensland Pineapple Farm
Pineapple fields decorate the lush hills of Queensland's eastern highland valleys. Along the river valleys in northern Queensland, dense tropical rain forests have been cleared to provide space for pineapple and sugarcane plantations. Located due west of Brisbane, Darling Downs' black soil plains offer some of the most fertile and productive agricultural land in Australia.
---
Germany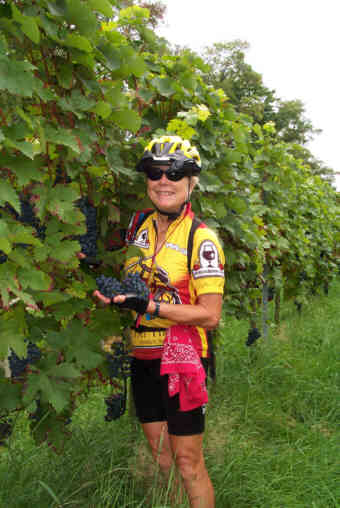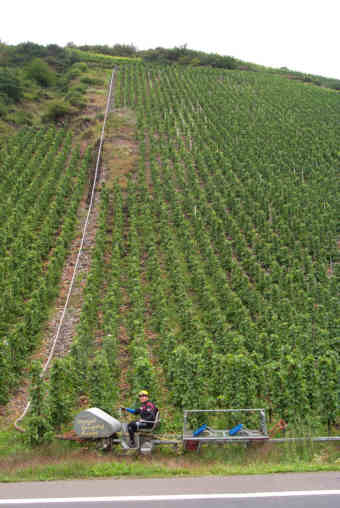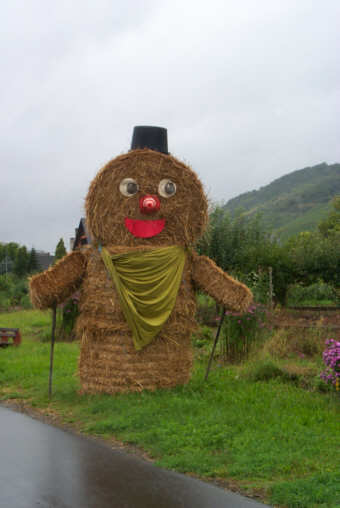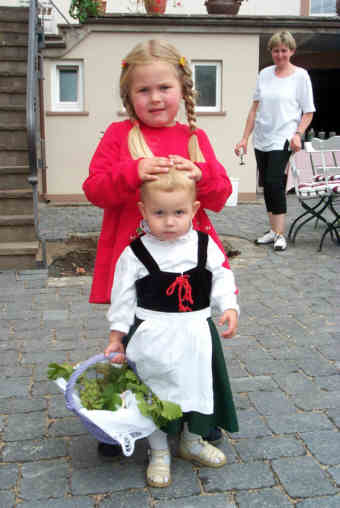 Moselle Wine Country (Day 246-247, Page 71)
---

Odyssey Riders and Staff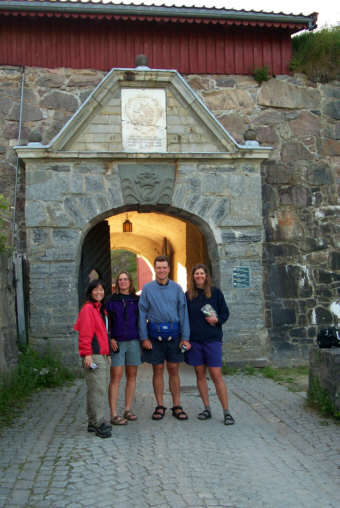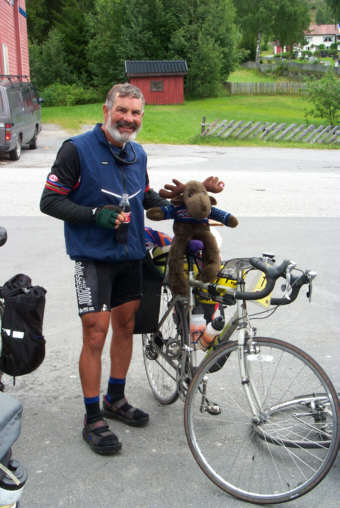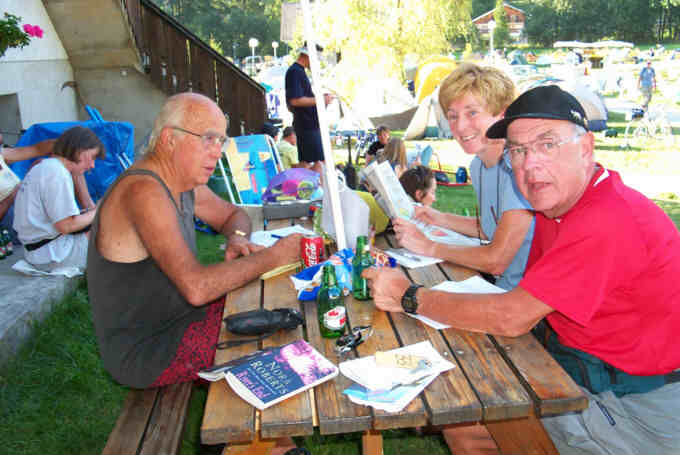 ---
Previous Page (Page 77) Next Page (Page 79)