Page 94
Malaysia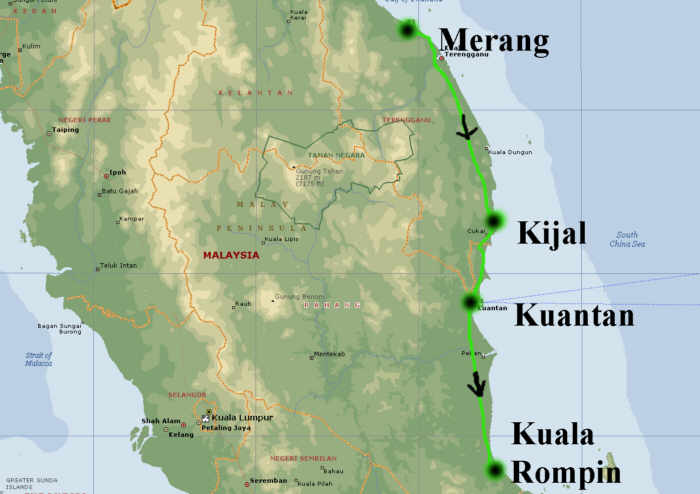 ---
DAY 325
Merang to Kijal (Southern Terengganu)
November 20, 2000
Another rainy ride! But no one is complaining because the rain clouds hide the burning sun and anyway pedaling in the warm rain here is quite fun. Riding a bike makes me feel like a kid again, and especially on a day like today. The Malaysian children were out riding their bikes in the downpour, soaked to the skin like we were, and having a great time.
We had another special welcome which occurred at about 40 km. out, at 10:00 a.m. Many officials were there to welcome us to their state, the state of Terengganu, and to encourage us to come back some day when we can stay longer. The rain came down in buckets during the program, but luckily tent shelters had been set up and there was a loudspeaker system which someone adjusted so that we could hear over the rain. The Terenggau officials and Tim of TK&A sat under one tent and we sat under another across the street and facing them. In between were the rain and many photographers who scurried about under big umbrellas. We were offered fresh orange juice, sambousas and other savory snacks. I think the only other country to have given us such a warm welcome was South Africa.
Our ride was along the beach and past coconut tree farms. The trees are loaded with coconuts of varying sizes which makes me wonder if they produce all year. There are many things here that I donít know a thing about! Coconut palms, making charcoal, and turning rubber tree sap into mats to be sold are only a few of my questions but I have no one to ask.
In one stretch of beach today there were a series of shops all selling the same fishy things like dried squid and shrimp. Other shops sold baskets or batiks. Joan and I cycled past every one of them, but not Shopper Bill! He couldnít resist the baskets. Now he needs a post office.
Checkpoint was at 100 km. and there we could get into a bus if we wanted. It was thought that because of the delay caused by the welcoming program many of us would not be able to complete the more than 100 mile ride before dark. The bus ride was offered as a way to encourage some of us to tarry and attend the program. It worked. Enough of us were there to make a good showing. Most of the serious riders though gave the ceremony a miss. The only EFI rider I saw there was Bill Bliss. Joan and I might be slow but weíre not stupid, of course we got into the bus! The busís AC was too cold for us in our soaking wet state, but I distracted myself with lunch and then took a nap once the bus was underway.
I awoke to discover that we had been delivered to paradise, the Awana Kijal Beach Hotel. Wow! It has a gorgeous setting on the beach and among other amenities, 18 holes of golf. I donít play but I sure liked the view of the golf course, palms, beach and China Sea from my room! It has an enormous swimming pool which includes a waterfall and just one minute away is the beautiful sandy beach complete with palm trees, the perfect place to collapse for a couple of days while someone brings food and drink. In fact it is so perfect that some riders chose to do that.
We have been warmly received in Malaysia and treated like celebrities. Each dayís ride is a long parade. There have been welcoming speeches, dancers and musical performances. On the way to dinner we were again feted. We had to walk up a grand staircase to get to the ballroom for dinner. At the bottom of the stairs drummers beat out a rhythm. Beautiful ladies standing on the stairs sprinkled us with a mixture of special herbs and flowers. This is the life!
Goodbye, Alice
DAY 326
Kijal to Kuantan
November 21, 2000
When it rains, it pours! This is the monsoon season which means rain, lots of rain. Malaysia enjoys a perpetual summer, the only variations being the wet and dry seasons. The annual rainfall is 200 cm., half of which has fallen during our visit I suspect. There was a storm at bedtime, thunder, lightning and rain and the rain continued all night. We had our windows open again so that we could hear the waves and enjoy the fresh air. Of course we also heard the rain. At 7:00 a.m. when it was time to go it was still raining very hard, so Joan and I decided to wait awhile to see if the storm would ease, as did many others. We had only 100 km. to ride and we couldnít check-in until 3:00 anyway so we thought it would be better to do the waiting at the beginning of the day while we were still dry. To pass the time, we watched TV, I fell asleep and Joan went shopping. At 10:00 the rain has lessened so we started our ride.
The scenery was basically rural, coconut palm trees were apparently the major crop, but from the fruit stands alongside the road, it was obvious that there are other fruit trees and fruits under cultivation as well. We saw not only coconuts, but small watermelons, bananas, rambutans, star fruits, lychees, and durians which we could smell before we could see them, for sale. Rambutans and lychees are related and look somewhat alike once peeled, and taste similar too. The hairy rambutan though is bright red with long whiskers growing out all over it, described by Tim of TK&A as a Ďhairy strawberryí. The lychee is a nondescript dull brown before peeling. The durian is a peculiar fruit in that it has a strong odor that borders on the offensive, it is so obnoxious that there were signs at the hotelís elevators stating that no durians could be brought into the hotel. Apparently though, they taste better than they smell, for they are the most expensive of Asian fruits. It is said that the durian is delicious when fixed with sticky rice and coconut milk.
Several oil refineries could be seen from the road and some other industrial complexes as well. Although many people here speak English the signs identifying buildings and such are rarely also in English. They are sometimes in Arabic though as well as Malay.
Malaysia is an Islamic country which would help explain why some signs are also in Arabic. An official or two has greeted us in Arabic which was then translated into English by an interpreter. We have seen a dozen or more large mosques, but they are not nearly as frequent as they were in Saudi Arabia where the intention was to have so many that no one would ever be out of the range of the prayer call. It appears that the Muslim women fare better here, they can work, drive motorcycles and automobiles, and wear colorful scarves and clothing rather than the all black worn by the women of Saudi Arabia. Other religions are tolerated here which may help to explain how it is that the peoples of three diverse cultures; Chinese, Indian, and Malaysian can live together harmoniously.
Americaís influence can be seen here in the fast food industry. I have seen Seven-Eleven, A & W and Kentucky Fried Chicken. We stopped for a treat at an A & W. I had a large double float and an order of onion rings. Yes!
Our only other significant stop was at the Cherating Pahang Turtle Sanctuary. The sanctuary works to educate the public on the need to protect the turtles and to carry out a hatching program. They have a protected beach area from which they collect all the eggs laid by the female turtles, incubate them, and then return the hatchlings to the sea. They have released about 200,000 turtles since the Sanctuary was established. We enjoyed the opportunity to see several live turtles kept in pools there and watched them eat cut-up small fish. We learned that there are seven species of marine turtles in the world, and of those, four species land and lay their eggs on Malaysian beaches. The turtles kept for show at the sanctuary were the Green Turtle, the Hawksbill Turtle and the Painted Terrapin. The Painted Terrapin is usually found living in river mouths. It is one of the species on the verge of extinction.
We nearly escaped serious rain but in the last 5 km. the skies opened and another downpour began. We were soaked in a minute. But the hotel was near and the rooms were ready. At dinner there were music and dancers and speeches. Karen Ann stood in for Tim and accepted a gift and made a speech. Each of us was given a baseball cap with Malaysia and Pahong, the name of this state embroidered on it.
We have only 3 days remaining before many leave in Singapore. People are busy exchanging addresses and promising to get together to do another ride some day. One rider said he didnít want to quit but now that he is used to the idea he canít wait to leave and get home. Hopefully all those who leave us in Singapore will find it as easy to accept and do.
Goodbye, Alice
DAY 327
Kuantan to Kuala Rompin
November 22, 2000
Strange but true, it was not raining when we left the Vistana Hotel. We were able to enjoy the early morning hour and watch the sun come up and try to shine through the clouds. It didnít succeed but it did make the clouds and the South China Sea look shiny and beautiful. We cycled past a group of contented cows who were lounging on the beach enjoying the early morning light as well.
It was an easy ride, coconut palms all the way. If it wasnít for the monsoon rains, Malaysia would be the best cycling weíve had, or at least the easiest. The roads for the most part are smooth, there is usually a shoulder, there is very little honking, and the drivers allow space for us.
I finally realized that this month is Ramadan which explains why the children arenít in school. Since Malaysia is an Islamic country the schools are closed for the entire month. No separation of church and state here, there is even the symbol of Islam, the sliver of a moon, on the flag.
We had a surprise at the end of the day. A Checkpoint sign stood on the highway some kilometers earlier than it should have and police were positioned there to flag us down if we should not see the sign and miss the turn. What was this, we asked each other. We found ourselves at a grand new hotel, Somerset Resort, which hadnít opened yet but was pressed into service for us. But not all of us. I was one of the ones who had to put my luggage back on the truck and then cycle the 11 or 12 km. to the original destination, the Landjut Golden Beach Resort. I thought I might get there before the luggage did so I took from my suitcase the things I would need for a shower. I did beat the luggage truck of course, by an hour at least but there were no towels available. I waited an hour and a half and then used a pillowcase for a towel. It made a very poor one. When the towels did arrive they were brand new, and would not absorb a drop of water.
Then I waited and waited for the shuttle bus to dinner back at the Somerset Resort Hotel. After dinner there was the inevitable wait for a return shuttle. Some people were being eaten alive by mosquitoes but I wasnít bitten. Actually, contrary to what most of us expected, there have been very few insect problems this year. I donít remember having any. Some people had ants eat holes through the floor of their tents and some have been bitten by mosquitoes. One person at least had to have a tick removed but she didnít suffer any ill effects. Then of course there was the killer bee attack.
Some of our fast riders, the ones who always come in early, had ridden to the Lanjut Golden Beach Resort as directed on the DRG and waited for TK&A to arrive and make room assignments. Jim Higbee was one, Trueheart of course, and Walty and Ann among others. Eventually they began to wonder why no other riders had arrived. I guess they rode back the way they had come, looking for other riders and found the Checkpoint sign. They had ridden past that point before the sign was in place and had no idea that there had been a last minute change of plan. The lucky ones were assigned rooms in the Somerset Hotel, but Walty and Ann for two, had to ride their bikes back to the Lanjut Golden Beach Resort which meant they had ridden an additional 36 km. that day. They are strong riders and could do the extra miles easily, but when you think you have finished and are anticipating a shower and dry clothes it is annoying to have extra miles to ride, even if they are easy.
Goodbye, Alice
---
Today's Music
---
Malaysia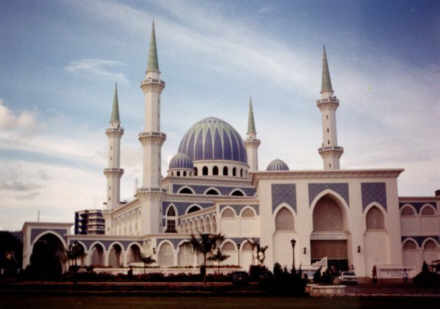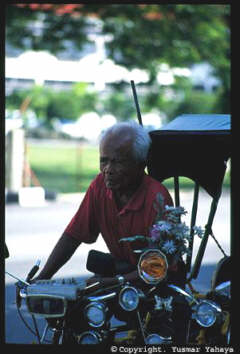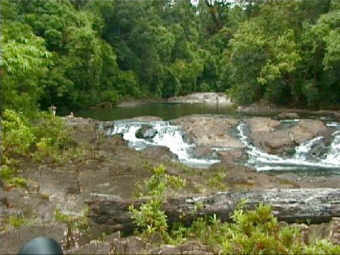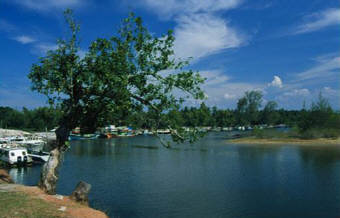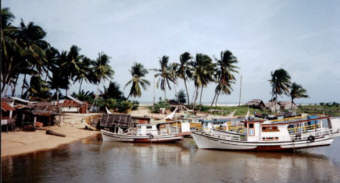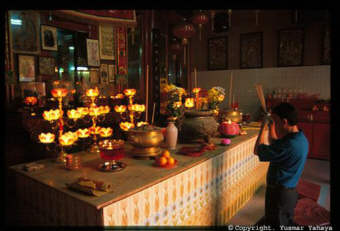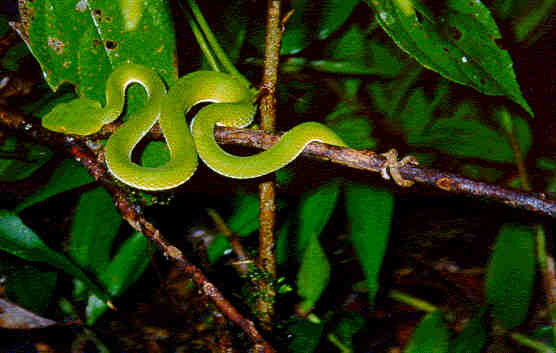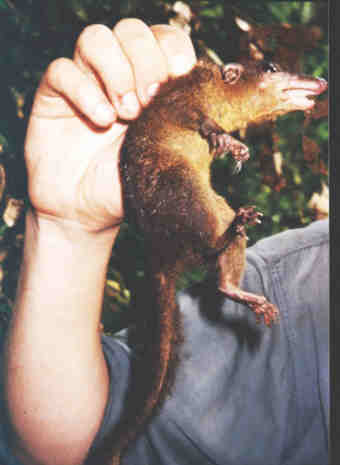 ---
China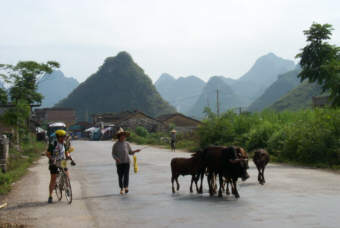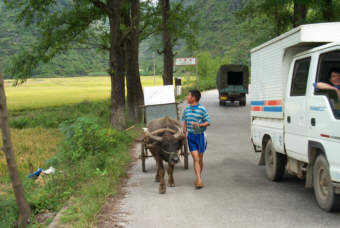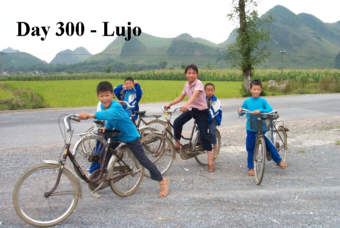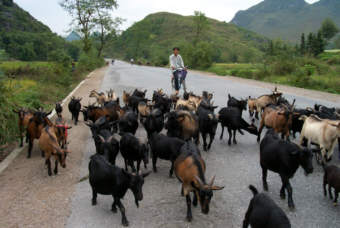 ---
Odyssey Riders and Staff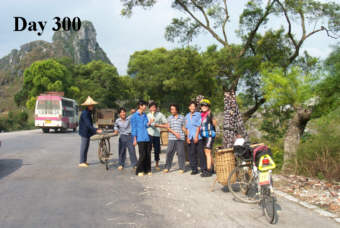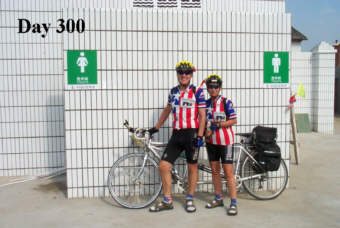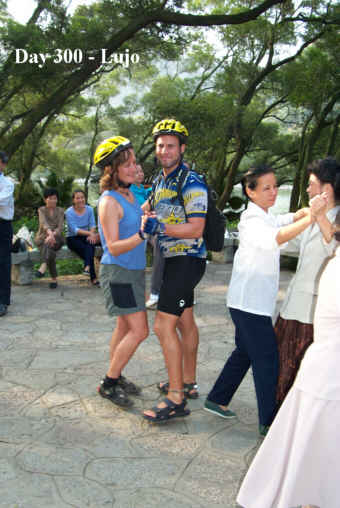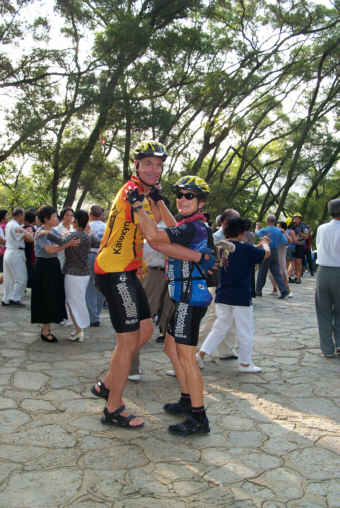 ---
Previous Page (Page 93) Next Page (Page 95)