Page 95
Malaysia

Singapore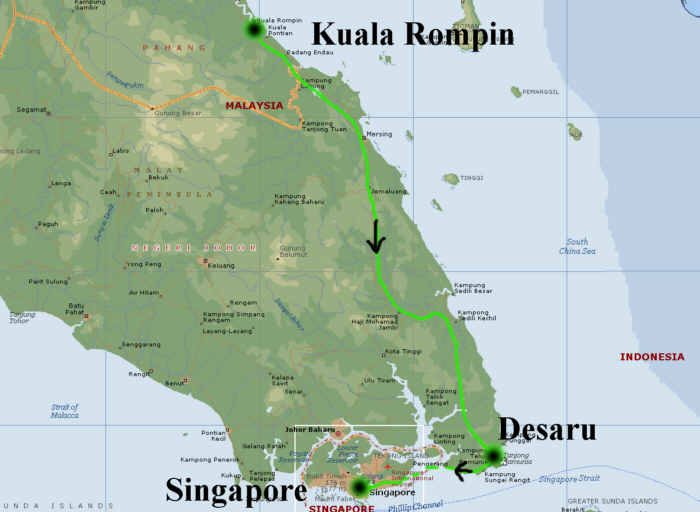 ---
DAY 328
Kuala Rompin to Desaru
November 23, 2000
Malaysia has hills! It was lucky that at last we met some hills or we would have left Malaysia with the impression that it is entirely flat. There were lots of hills and some construction which caused short delays. The itinerary had been changed to shorten the Day 329 ride to Singapore, which was a good idea but that lengthened the ride to Desaru to about 250 km., or 124 miles which was a lot. A bail-out option was available at about 140 km. and most people took advantage of it including Joan and me. But there were a couple dozen at least who did the entire ride. True amd Jim Higbee of course, Larry G., Kathy, Marc, Wild Bill and Susie, Danny, Racer Bob, Bill Bliss and no doubt all of the EFI'ers including Ruth who was my roommate again, and my other roommate in Desaru, Denise. Linda B. did the entire ride, the first time she had ever ridden so far in one day. I think the people who did it all showed a lot of character to continue and finish when bailing out would have so easy but more importantly because the hills and construction had made the day harder and longer than anyone expected it to be. By the time they'd reached the bail-out point they'd have been tiring and running behind schedule, it was hot, and still they had 100 km. to ride.
Meanwhile, back at the bail-out, we had to turn the handle bars and remove the pedals before loading our bikes onto the truck. The bus wasn't full yet so we had time to buy cold drinks and get settled in our seats. Whew! When I walked down that aisle I was assaulted by the sour smell of everyone's clothes, shoes and helmets. We have been in the tropics too long! I have worked hard at keeping my clothes, shoes, etc. as fresh as possible. I wash everything every day and make an effort to get things dried as much as possible. When I found that I could no longer wash the sour smell out of my clothes, I soaked them in the only thing I could find, Dettol. It's meant to be an antiseptic for wounds, but I figured it could kill bacteria on clothes too and it did. Yeah! At least now I don't smell sour. But I have just discovered that even my handlebars are sour smelling. I will be cleaning my bike in Singapore in preparation for taking it to New Zealand. Maybe I will change the handlebar tape then too.
Things went smoothly at the hotel this time. The rooms were ready and when I asked for an extra towel because there were to be three people in my room the towel was delivered immediately. I was the first to arrive of my roommates because I had taken the bus the last 100 km. while they were pedaling the whole way. That meant that I had first choice of the beds so I chose the one I wanted. That left only one proper bed and the rollaway bed that had been brought in for the third person. I had finished my shower and washed my clothes before my first roommate to arrive, Denise, came. By rights she had her choice of beds and was entitled to the real bed but she chose the rollaway bed! That seldom happens on this trip. Not only was it an inferior bed, but it had no reading light. I think that shows something very special and unselfish about her character. Denise has consistently performed above and beyond, organizing small group trips for example which is an incredible amount of work, and most recently, starting and single-handedly managing a scholarship fund for those who would like to finish the Odyssey but needed a loan or a grant.
Dinner was wonderful and there was entertainment as well. It is going to be tough to return to the real world of cooking and dirty dishes after this marvelous year.
Susan W. did a very nice thing. She is not continuing after Singapore and since she has bikes at home she decided not to go to the expense of sending her Odyssey bike home. She gave Ruth her rear wheel. It is one of the specially built super strong ones that cost several hundred dollars. Last I knew she had given away every part except the frame. When Lynn was my roommate at the Landjut Hotel she told me that since she no longer wanted to ride she had lent parts of her bicycle to other riders who did want to ride but couldn't because of broken parts. That was the first I learned of the 'bike organ donor' program. Some people are going to donate their bicycles to a charity in New Zealand that our Kiwi rider, Ron, has located. I will keep mine because now that I am used to it I like it. At first I didn't, I thought it was heavy, bulky and ugly. I called it The Tortoise. It is still all of that but even uglier than it was because it is so beat-up and rusty. No amount of washing and cleaning will ever make it look good again. The fenders are broken, only half of the front one remains and the rear fender is broken in two and reattached in such a way that there is now a large gap which allows all the dirt to fly off the tire and onto the bike. Maybe I can replace the fenders in New Zealand. It also needs a new rear cluster and chain. Both tires have a gash so it is only a matter of time for them. But I have been fortunate to have less bike trouble and expenses than most people.
Once in awhile we get a hotel room with the news in English, usually CNN. So we have heard about the presidential election vote recounting. We have one rider with perhaps more interest in the outcome than the rest of us, Larry Gore, third cousin of Al Gore. Another rider also is closely involved in the election. Ken, of Emily and Ken, designed one of the ballots in Florida that is causing trouble with the recount. He had to leave the ride and fly to Florida to help sort out the mess. I was surprised to learn that each county designs its own ballot. I would have thought that there was a standard format used by every county in the nation. I think they should let the counties with confusing ballots vote again. It would not be fair to win or lose an election because of a fault in the design of a ballot.
Goodbye, Alice
DAY 329
Desaru to Singapore
November 24, 2000
This was our last riding day of the Odyssey as we had known it and one of the shortest riding days ever, something like 40 km. altogether.
There was a ferry after 35 km. and then only another 4 km. to the end of day in Singapore. The first ferry was at 9:30, the next at 12:30. I reasoned that if we took the early ferry we'd arrive at the hotel in Singapore in time to wait for hours for a room assignment. We could be soaked from the rain and uncomfortable. So why not, I said, wait at the hotel in Desaru while still clean and dry for a few hours and take the second ferry? Joan agreed and so that is what we did or tried to do. Of course we were up at the crack of dawn and ready to ride as early as we usually are. We tried but we found it difficult to sit around and relax over a second cup of coffee and a newspaper. Joan kept fussing that her front tire might have a blow-out because she had discovered that it had a bulge. I couldn't find anything interesting to hold my attention in the newspaper. In the end we were so restless that we gave up and left earlier than we had intended. We rode at a dawdling pace but still reached the ferry terminal so early that we had to wait there for a couple of hours for the ferry. Joan's tire had held.
Allison was there, leftover from the first ferry because she had forgotten her passport. It was in her luggage which was packed with hundreds of other bags in a huge truck. She would be stuck at the terminal all day until the truck could reach Singapore and be unloaded, someone would locate her bags, retrieve her passport, backtrack from Singapore to the terminal and take the ferry across to the other side where she was waiting. With luck she might be able to take the 6:30 ferry and still reach the hotel in time for dinner at 7:30.
Joan and I arrived at the hotel before noon and our rooms were ready! We were staying at the Le Meridien Changi Hotel which is very near both the airport and the ferry terminal, a perfect location for our needs. It was a beautiful hotel and already bedecked for Christmas including a giant Christmas tree which looked very strange to me beside the palm trees growing in the atrium. I had not expected to see Christmas in Singapore.
In the middle of the afternoon when the bags had arrived I went to get mine and found Jim Higbee sitting on the curb of the driveway with his bike and with all of his baggage beside him. Thinking it was a bit strange for him to have just arrived as it had been hours since the last ferry, I asked him what was up. He replied with the astonishing news that he had just reached his goal, 100,000 miles of cycling. 100,000 miles! Yikes! On arriving at the hotel from the ferry he calculated and realized that he was only 16 miles short of 100,000 miles, so he went for a ride! When I found him I think he was both elated and dazed, just sitting there and savoring the accomplishment of his dream. But if I know Jim, this won't be the end of it. He has probably already started on the next hundred thousand.
This was to be our last evening together. A banquet had been ordered and a fashion show, the brainchild of Judy B. and Pat, planned. It was very successful, hilarious but at the same time so sad too. The meal was extravagant and delicious. I sat at a table with Elbert and Dave P., two of our more senior citizens, and was flabbergasted and delighted at their appetites especially for dessert. Eat dessert first, life is short, must be their mottos. I said I just hope I can eat like that twenty years from now! Of course about 20 people probably didn't get dessert, Elbert and Dave had already eaten their shares too.
The fashion show started while dinner was still in progress. Ben W. was the emcee again and just as remarkable as before. He didn't juggle between acts or balance a bicycle on his chin but he did show astonishing skill with a yo-yo, causing Katie W. to quip, 'Ben, were you grounded a lot?' Many riders and staff participated in the show. The idea was to wear something purchased on the trip. Lately there had been a frenzy of buying when people discovered how cheaply and quickly they could have garments tailor-made in Vietnam and Thailand. I hadn't bought a thing so didn't even consider entering the fashion show, but other people thought of creative ways to be in the show and to make us laugh. We had a hilarious and wonderful but bittersweet time, as we began to fully appreciate and feel our loss at the premature ending of the Odyssey. The Odyssey choir performed after the fashion show, and as Joan had predicted, there wasn't a dry eye in the house by the time they had finished.!
I looked at the choir and counted, only five of the members will still be part of Odyssey in New Zealand.
Then we were treated to the third Odyssey video by our talented resident photographers, Mark and Michael. It was awesome to relive the experiences on the screen with the people who had been there. Somehow the video made clear the big picture of what a wonderful event the Odyssey has been, something that many of us lose sight of in the daily grind to the finish. It was thrilling for each of us sitting there to see what we had done. We are proud of what we have accomplished and at the same time numbed and saddened at the premature ending. The ride is continuing but it won't be the Odyssey 2000 as we knew it.
Goodbye, Alice
---
Today's Music
---
Malaysia

Desaru Resort Area
A casuarina tree lined resort, provides first-class hotels, 8 km of sandy beaches on a 20 km stretch of unspoilt beaches, 36-hole golf-course, canoeing, fishing, snorkelling, trekking, pony-riding, and many more activities.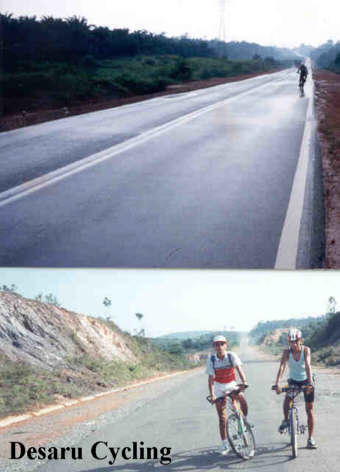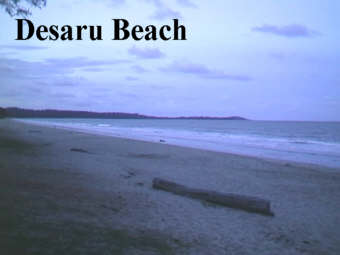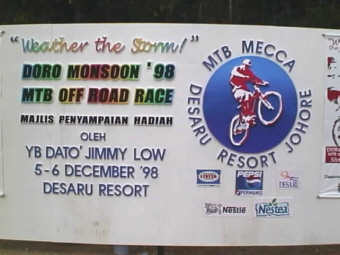 ---
Singapore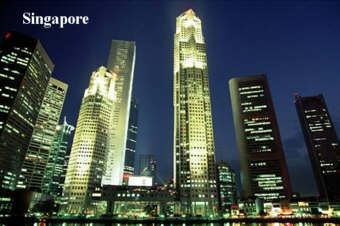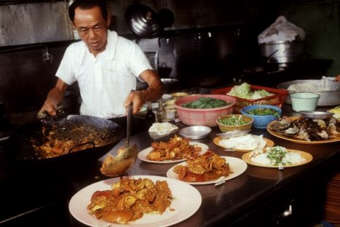 Towers of Singapore
The skyscrapers of Singapore's financial district glow at dusk. Singapore's economic success has resulted largely from its advantageous location at the southern tip of the Malay Peninsula, with the Indian Ocean to the west and the South China Sea to the east. Singapore emerged as an entrepôt of vital importance in the early 19th century. To ensure continued prosperity under changing circumstances, Singapore's leaders launched an aggressive economic program in the 1980s that emphasized capital-intensive industries.
Gastronomic Delights
Although Singaporeans come from many places, they share a common characteristic: a love of good food. The various ethnic groups in Singapore exchange useful cooking methods, but are reluctant to abandon their traditional dining styles. Chinese Singaporeans continue to use chopsticks, just as Westerners and Indians maintain their customs. Some acculturation, or blending, is occurring, creating a new and unique society.
---
China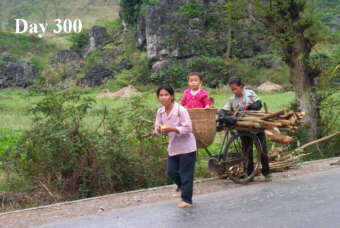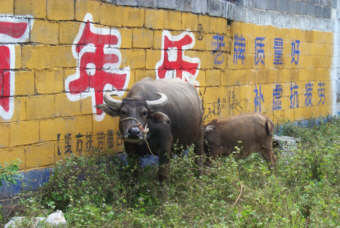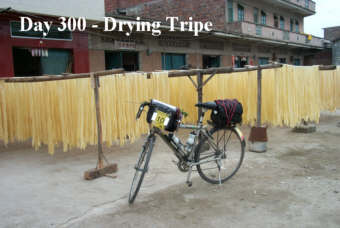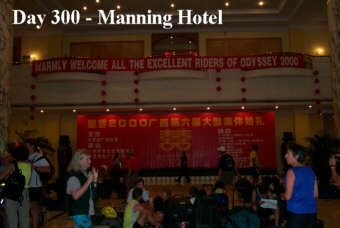 ---
Odyssey Riders and Staff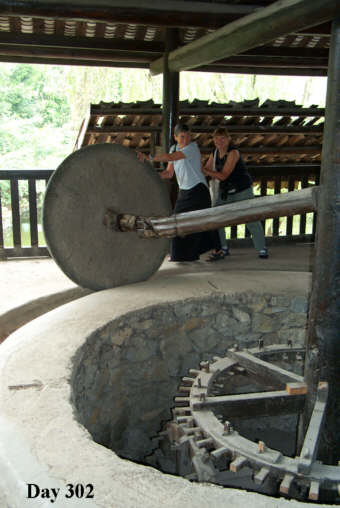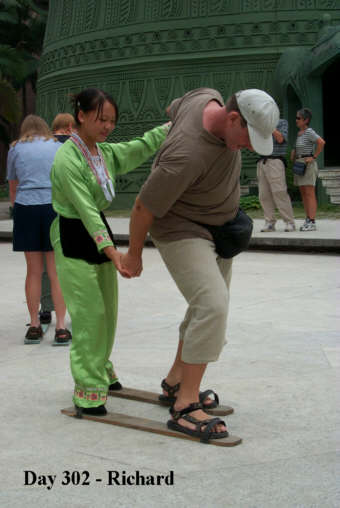 ---
Previous Page (Page 94) Next Page (Page 96)