Page 96
Singapore

New Zealand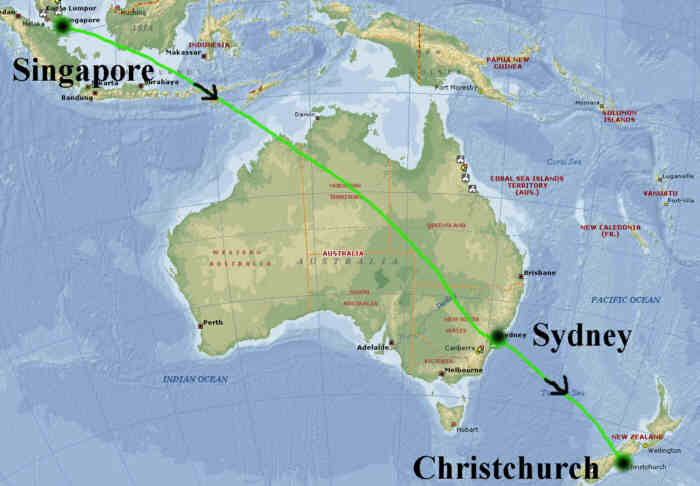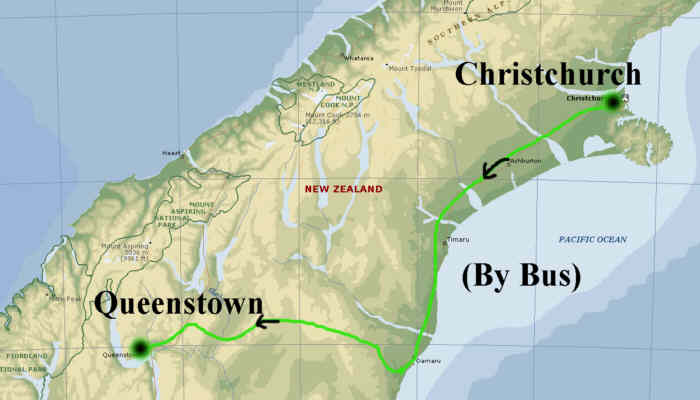 ---
DAY 330
Singapore Layover Day
November 25, 2000
This is one of those days that just evaporated. I mailed packages home, bought scrub brushes, cleaned my bike and had a look inside my tent bag that had been in storage in Hong Kong. Somehow those activities took all day. Some of my friends went on a half-day tour of Singapore; these were the people who had taken their bikes to a little bike shop near the hotel and paid $30 (Singapore dollars) to have them cleaned. That seemed like a good time-saving idea but for some unexplainable reason I wanted to clean my bike myself. I think it was the appearance of the bike shop that put me off.
Cleaning a bike takes forever and is a dirty job! I scrubbed it with my new brushes and soapy water, I sprayed motorcycle cleaner on the chain and cassette and I used rags and elbow grease. Eventually the bike looked better and I looked like I'd been playing in a grease pit. I had to spray motorcycle cleaner on myself and even the bottoms of my feet which were spotted black with grease so that I could try to rub it off before stepping into my sandals. I had been working in a very dirty spot behind the hotel where there was a hose.
In the process of cleaning it I had removed the wheels so I took advantage of that opportunity to closely examine the tires. I have had the same tires since June and have not had a flat. But I found a gash in each tire, one was filled with broken glass and another with a sharp rock. I cleaned out the gashes but I wonder how long the tires will last now. I am sure it was the Tuffies which prevented flats so far. I doubt that my tires will last until the end of Odyssey, another 2500 km.
In the evening a group of us met to say goodbye to Gudrun who would be leaving the Odyssey very early the next morning. We celebrated our friendship with Singapore Slings, took photos of each other, and made promises to get together in the future. This was happening in little groups all over the hotel. So many people leaving! Hundreds! Only 57 riders and 14 staff will continue with Odyssey 2000 in New Zealand. We will miss the others.
Goodbye, Alice
DAYS 331 - 332
Singapore to Christchurch, New Zealand
November 26-27, 2000
I had been to Singapore several years ago and did some sightseeing then but there is so much to see, one needs a week. I had planned to go to Sentosa Island on this second and last day in Singapore but awoke with a headache and feeling indifferent about sightseeing. In the end I was too unmotivated or too lazy and didn't go anywhere. It always makes me feel a little guilty and uneasy when I don't do all that there is to do or at least have a good go at it.
Right after breakfast Joan, Inge and I went to the basement parking area where our bikes were stored to get them ready for the flights to New Zealand. We had to do the usual things, turn the handlebars, remove the pedals, and deflate the tires but we also had to wrap them in huge plastic bags and tape them securely. The bags wouldn't protect the bikes from damage but might help to prevent them becoming entangled.
About 5 p.m. the people going to New Zealand began to gather in the lobby. We had thought we had to take the hotel's free shuttle to the airport and we wondered how that would work since we each had two big bags and a bike to transport as well. Some of us had registered for the 5:00 shuttle and others for the 6:00. Those who had tried but were too late to get on either one thought they would go by taxi. But then, a surprise! Tim appeared and told us that he had arranged a bus for us, and trucks for our luggage and bikes. The memo that had said we had to arrange our own transport was directed at those who were quitting the Odyssey, not the 57 plus 14. Some of those who were quitting were going to the airport at the same time and some were even taking the same flights to New Zealand, but TK&A was not providing transportation for them. They were on their own now!
We left by bus about 6:00 p.m. and once at the airport stood in line to check our bags. Even with our greatly reduced number our line still seemed long. Then we waited an hour for the bikes to arrive and after they did stood in line to check our bikes.
By this time our shopping time was nearly gone but I managed to rush to the bookstore to find the very guides that I wanted for New Zealand and Hawaii. I like the Insight Pocket Guides for many reasons and was thrilled to find both of them. I was hungry but decided to hold out for dinner on the plane, which as it turned out, was not a good idea.
Our flight was to be at 8:40 but for whatever reasons we were delayed an hour. Once in the air there was so much turbulence that the drink and food service could not begin. It was midnight before we were fed and by then I was famished. I managed a nap or two during what was left of the night and refused breakfast because it followed so soon after dinner and anyway I wanted to try to sleep. The flying time to Sydney was nearly 8 hours; we arrived in Sydney about an hour late, 8:00 a.m., and stood and waited while Tim sorted out a problem at the Transfer Desk. The problem was that we had no tickets out of New Zealand. Immigration will not let a tourist enter the country without a return ticket. By the time this was resolved some people had missed their connecting flight, but no worries, there were enough seats for them on the same flight the rest of us were taking. That flight though was hours and hours later, at 7:05 p.m. We would be waiting eleven hours. The ambitious left for Sydney to spend the day there. Most of us stayed at the airport, shopping, eating, and napping.
There was free access to the Internet at Samsung Internet Carousels in the airport. I enjoyed a look at 'Alice's Odyssey', only my second or third glimpse this year, and again marveled at the great job Todd, my brother-in-law is doing. The maps and flags are a great idea and I see that the photos borrowed from Encarta or other sources greatly enhance the page. My photos always lag the text and of course they are very limited anyway. Readers have told me about the music appropriate to each country but the computers I have used were soundless. I am looking forward to reliving the Odyssey day by day next year via the websites of the riders.
The flight from Sydney to Christchurch was a breeze! It took less than three hours or just enough time for a nice dinner and a movie. Even though we were late getting off the ground we arrived earlier than expected, at 12:05 a.m. The flight itself was uneventful except that a beverage cart tipped over and fell on a flight attendant's foot. They called for a doctor and our very own Dr. Sharon answered the call. She was rewarded with a flight in the cockpit including the landing and a bottle of champagne!
Bikes and baggage were unloaded promptly but it was a slow process getting through Customs because our tents had to be inspected. Dirty tents were taken to another room to be fumigated. My tent was clean and was spared that process. No one looked at our bikes but I had to hand over my orange.
Then we loaded bikes and baggage onto trucks and were driven to the University of Canterbury and assigned rooms in University Hall. We received a warm welcome from the University staff even then, in virtually the middle of the night. I was in my room before 2 a.m. but others were coming in yet at 3:00 a.m. We would be in Christchurch for only a few hours because we would be leaving on a bus for Queenstown at 10:00 a.m. I was tempted to set the alarm to sleep through breakfast and get another hour of rest.
Goodbye, Alice
DAY 333
Christchurch to Queenstown, by bus
November 28, 2000
I could not sleep and was up walking the campus looking for a public telephone at 3:30 a.m. Finally I did get a short nap but it wasn't nearly enough. The folks at the University of Canterbury where we had spent what little there was left of the night after our arrival in the wee hours fixed a marvelous breakfast for us. Such a feast it was! Fresh fruit and yogurt, hotcakes and hash browns, oatmeal and granola, eggs and ham, toast and Danish, coffee and hot chocolate, juice and milk ... and then we boarded a bus for the 8 hour journey to Queenstown, just what we needed after 36 hours in planes and airports and a very short night in the dorm!
I wanted to stay awake for the bus ride, not to miss an inch of scenery because I expected it to be beautiful. But despite my best effort I kept dozing. That wouldn't have been a problem normally on a bus, but this was not your normal bus, this was the economy version I am sure. The seats were narrow and though Joan and I aren't wide, not even together are we wide, we were too wide for that bus seat and there were no arm rests. I was on the aisle and not completely on the seat so that I had to brace myself to stay on the seat. That was fine until I dozed and then I would start to fall into the aisle which would wake me with a start, I'd resettle and in a few minutes the whole process would be repeated. Then came the moment when I didn't awaken in time and fell directly onto Katie who was sitting across the aisle. At that point, Joan, who had been peacefully dozing the whole way, offered to trade seats with me so that I could have a nap. As for the scenery, we couldn't really see it anyway. It was a cold and rainy day which caused our bus windows to be so fogged and wet that we couldn't rub clear a spot for peering at the view.
So it was a long and uncomfortable bus ride to Queenstown. It was cold and raining there when we arrived causing many of us to make a beeline for the office of the Holiday Motor Park, hoping to rent a cabin. Yes! There were enough for everyone who wanted one and the price was right! $16 N.Z. each, or $6.40 U.S., towels included. What a deal! Denise, Joan and I shared a room. Perhaps half the riders rented rooms, but others like Ruth, Al, and Suzi and Bob camped. I have decided to take a room whenever possible for the rest of the Odyssey, even if the weather is fine, because it will save time and energy, two items in very short supply for me and it is inexpensive to do at least in New Zealand.
Dinner was a ten minute walk away at the Gourmet Express and a great meal. There was a bowl of salad on each table to share, then each of us were served a heaping plate of shepherd's pie and a butterfly lamb cutlet. Dessert was a Kiwi specialty, sticky date pudding served warm and topped with soft serve vanilla ice cream. Oh Yum!
Goodbye, Alice
DAY 334
Queenstown Layover Day
November 29, 2000
In Queenstown there are far too many things to see and do for a single day. Joan and I decided to do a fly-cruise-fly trip to Milford Sound. I knew I wanted to do this because it was something I had missed on my first trip to New Zealand and Joan was eager to go too. We had made the booking on arrival at the Holiday Motor Park in spite of the drizzle, hoping that the morning would bring better weather and it did! It was a glorious sunny day with deep blue skies and crystal clear air. I couldn't remember when we'd seen such transparent air. Not in Asia, not in Europe, maybe in North America. It couldn't have been a better day for our scenic flight.
A taxi collected us at 9:30 and delivered us to the airport for our 10:00 flight. Our little plane held seven people and everyone was there and ready to go on time. The 35 minute flight was spectacular, over the snow covered mountains, rivers and lakes of Fiordland National Park to Milford Sound where we landed. We wore serious headphones to help silence the motor noise and so that we could hear the pilot commenting on the scenery as we flew above valleys and rivers, intensely blue lakes and frozen white lakes just beginning to thaw, and many mountains, all dusted with snow like powdered sugar donuts, and some were iced with ancient glaciers.
After the plane landed we rode a shuttle bus to the wharf where we boarded a large ferry referred to as a 'launch' for a two hour cruise in Milford Sound. Right there in the harbor is photogenic Mitre Peak so the cameras were clicking before the launch was even underway. Milford Sound is spectacular. We learned that it has been misnamed, that it isn't a sound at all but a fiord. The captain explained the distinction between the two, but I have forgotten what he said. We saw beautiful scenery including several waterfalls and went as far as the Tasman Sea before turning back. We saw a dozen fur seals sunning themselves on a very big rock and a group of playful dolphins swimming circles around a small boat. The flight back to Queenstown was by a different route but still there were mountains in every direction. We flew over the most famous hiking trail in the world, the Milford Track, and Sutherland Falls. It was a great experience. Two other riders, Bobbi and Big Rod, also made a similar journey.
Back in Queenstown, we had the taxi driver drop us at the Kiwi and Birdlife Park. Of course the main attraction there are the kiwis, perhaps the strangest looking bird left on earth. They are nocturnal so on entering the darkened kiwi house one has to wait 5 or 10 minutes for the eyes to adjust before trying to spot a kiwi. This time it was easy. There were two kiwis inside a large enclosure and they were very active, searching here and there for worms and grubs with their very long beaks. The kiwis' nostrils are at the end of the beak, perhaps to help them sense what is edible and what is not. Kiwis mate for life and the larger female lays the largest egg per body weight of any bird in the world. The kiwi is flightless and rare in the wild due to introduced predators and pet dogs. It is really cute and has become the symbol of New Zealand just as the kangaroo is of Australia. At least one rider didn't realize that and had thought that the nickname for the people of New Zealand, 'kiwis', was because of the kiwi fruit.
We also saw Keas, the only alpine parrot in the world, and the smaller Red Crowned and Yellow Crowned Parakeets. We saw two Black Stilts, the rarest wading bird in the world with only 150 left in existence. They had large red feet and were busy looking for worms and aquatic insects in the river that has been created for them. We saw owls and ducks, including the endangered Brown Teal Duck and a few hand raised ducks that were free to roam as they pleased including in the gift shop. The biggest birds were the New Zealand Wood Pigeons which are easy to spot in the wild and are found in native bush areas throughout the country.
That just about took care of our layover day. I went from the bird park to the hair salon for a haircut, from there to dinner, and finally back to the room we had rented at the Holiday Motor Park where I still had to get my bike put back together for the next day's ride to Wanaka. I was looking forward to riding in this, the most beautiful and friendly of all countries.
Goodbye, Alice
---
Today's Music
---
Singapore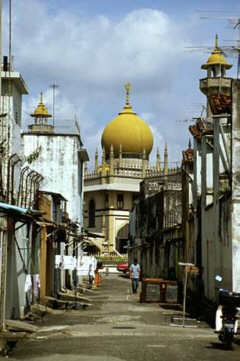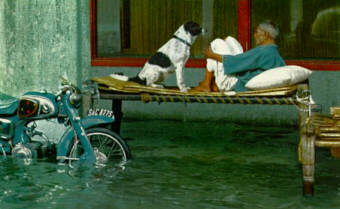 Sultan Mosque, Singapore
At the end of a narrow street stands the Sultan Mosque, the largest mosque in Singapore and the nerve center of the city's sizeable Muslim minority. The mosque was built in the early 1800s by the last Sultan of Singapore, Iskandar Shah. Each Friday, red carpets are laid at the mosque's 14 gates to lead worshipers into the green-and-gold marble interior for prayer.
Monsoon Rains
When monsoon rains come, Singaporeans take shelter wherever they can find it.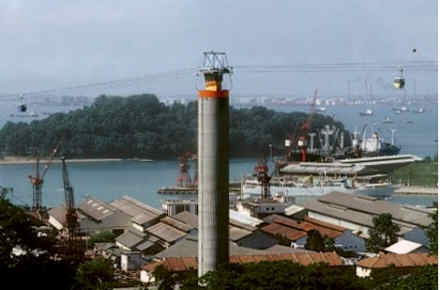 Apartment Block in Singapore
Drying laundry hangs on poles that extend from windows of a large apartment block in the tiny nation of Singapore. With most of its land area consisting of city, Singapore has one of the highest population densities in the world.
Cable Car to Sentosa Island
A cable car from Mount Faber carries tourists south to Sentosa Island, also accessible by ferry from Singapore's World Trade Center. Once the site of a pirate cemetery, the island is now a recreational destination with facilities for golf and swimming, a maritime museum, and an aquarium.
---
New Zealand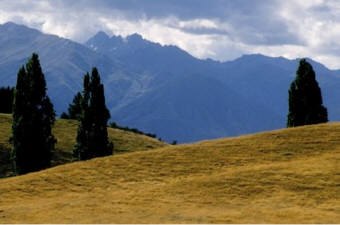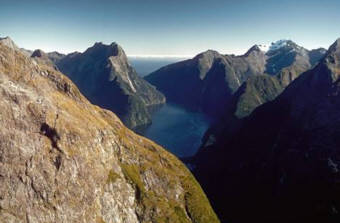 South Island of New Zealand
On New Zealand's South Island, the terrain east of the rugged Southern Alps range relaxes into the rolling hills and plains of the High Country region. This landscape near Lake Wanaka shows the drier climate of the island's south central interior. Winds from the west carry moisture from the ocean, and clouds drop most of their rain on the western slopes of the Southern Alps, leaving little for areas east of the peaks.
Spectacular Milford Sound
Milford Sound in Fiordland National Park is the best known of the many fiords that indent New Zealand's South Island. The sound was carved by glaciers and then flooded by the Tasman Sea. Mountains rise straight out of the sea on either side of the sound, producing spectacular waterfalls when heavy rains cascade off steep, rocky cliffs.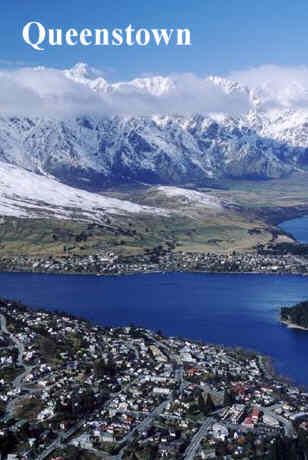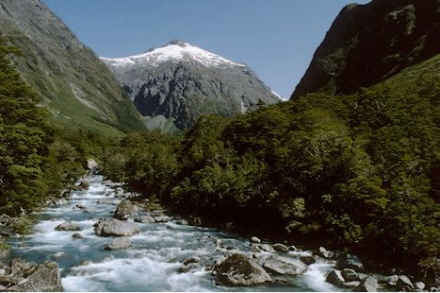 Queenstown on Lake Wakatipu
Queenstown, on New Zealand's South Island, experienced its first boom when gold was discovered in the nearby Shotover, which gold prospectors called "the richest river in the world." Today Queenstown thrives as a tourist center in a region of lakes, rivers, and ski areas. The town sprawls along the shore of Lake Wakatipu, which is 378 meters (1,239 feet) deep. The mountains in the background, known as The Remarkables, reach a height of 2,286 meters (7,500 feet).
New Zealand's Fiordland National Park
In New Zealand's breathtaking Fiordland National Park, the Hollyford tumbles over a rocky bed from its source in the Darran Mountains to Martins Bay on the west coast of South Island, about 72 kilometers (about 45 miles) away. The slopes of the Hollyford Valley are richly covered with rain forests up to 1,067 meters (up to 3,500 feet) above sea level. Annual precipitation in the area is high, averaging 6,350 millimeters (about 250 inches). Fiordland National Park, part of a designated World Heritage Site, encompasses glacier-covered mountain peaks, glacier-carved valleys, waterfalls, fiords, and lakes. The park's indigenous plants and animals are protected by restricted visitors' access to the park.
---
China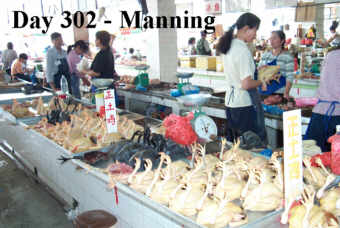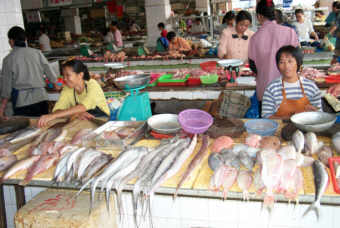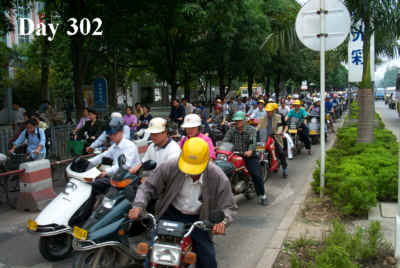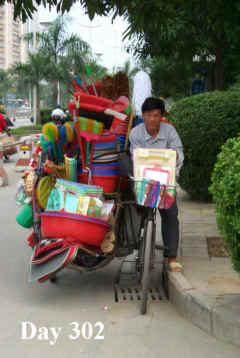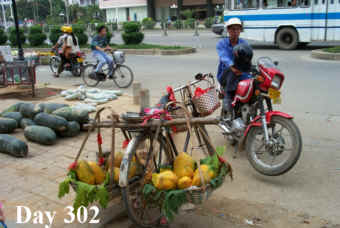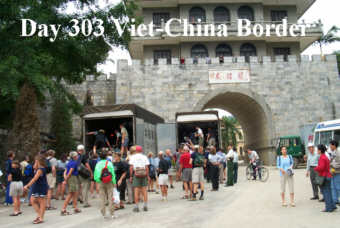 ---
Odyssey Riders and Staff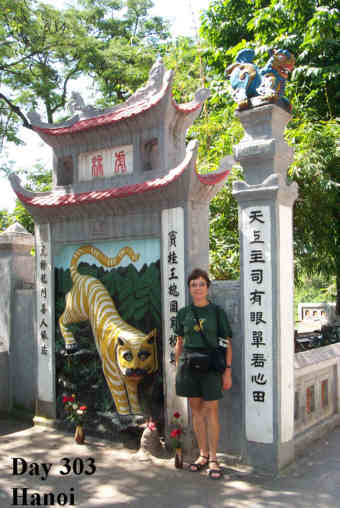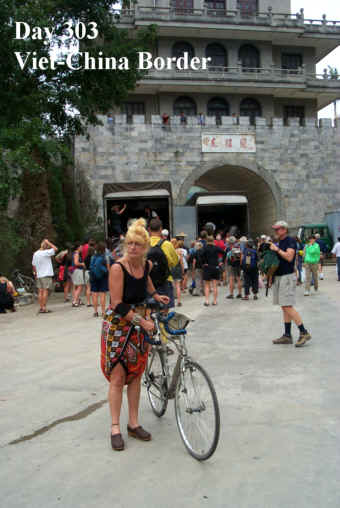 ---
Previous Page (Page 95) Next Page (Page 97)