Page 97
New Zealand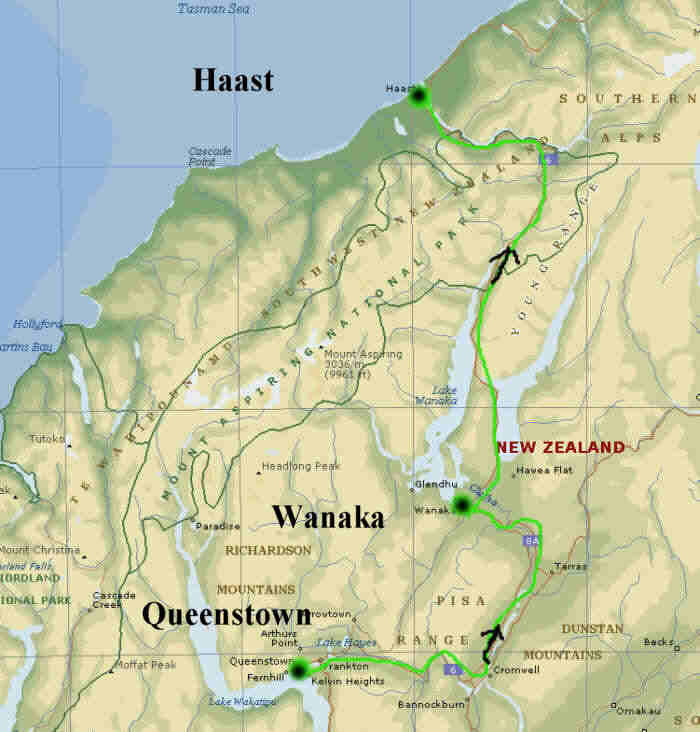 ---
DAY 335
Queenstown to Wanaka
November 30, 2000
Are we lucky or what! It was another sunny and gorgeous day, perfect for our ride to Wanaka. It was to be only 112 km., just right for a good ride, every inch of which was beautiful.
At 24 km. from Queenstown we came to the Kawarau Suspension Bridge, a handsome old bridge no longer in use for traffic but of historic significance. Gold rush traffic used this bridge and more recently it made history as the site of the world's first bungy jump. The Hackett Bungy Jump company is still in operation there and although we stopped to have a look at the bridge and lingered over coffee, we didn't jump. I wouldn't have jumped anyway, once was enough for me, and I haven't heard that any Odyssey rider did, partly because they opened a little too late for us to wait, and maybe because all those who might have jumped had already done the longest jump in the world in South Africa.
We had beautiful scenery of mountains and blue sky, fields of grazing sheep with their lambs, and wildflowers growing alongside the road. Lupine grows like a weed, it must be the dandelion of New Zealand. The flowers are a rainbow of colors; lavender, purple, yellow, pink and cream. They have a lovely fragrance which perfumes the air, such a treat after some of the smelly places we've cycled recently.
We cycled past vast vineyards, some so newly started that surely they can't bear many grapes this year. How long does it take for a vine to produce? I don't know. The vineyards were also planted with gorgeous rose bushes and beautiful flower gardens. Whenever I see a vineyard I get the impression that it must be a profitable business. We also cycled through an area of fruit orchards but we didn't stop for the cherries, apples, dried fruit and honey advertised. In at least one orchard the trees were trained to grow in a giant V shape, two branches came from a single trunk, and they were tied to wires to form the widely spread V. It looked like a way to have maximum sunshine on the fruit and perhaps it makes picking easier. But it reminded me of the tortured orchards I'd seen in Europe. The trees looked healthy but very strange in that formation. In the area of the vineyards we came across a sign marking the location of the 45th Parallel. One winery capitalized on that happy coincidence, calling itself the 45th Parallel Winery. I thought that was not a very romantic name but it is memorable at least.
Checkpoint was at the Kawarau Gorge Mining Center, site of gold mining in the good old days. Nowadays one can enjoy the gardens, have some good food, pan for gold, or take a jet boat ride on the river. We had our lunch there, delicious vegetable soup and garlic bread. We also had our bikes adjusted by Dave, our mechanic, who has been Merlyn's replacement since Singapore. My brakes were feeble and shifting was awkward. Joan had a whole list of complaints.
Puzzling World was an entertaining stop for us late in the day. It is a playfully designed place and fun to visit. The buildings are all wonky, the clock runs backwards, there are a variety of puzzles one can solve, a maze, a gift shop and snacks.
Eventually we arrived in Wanaka which is situated on beautiful Lake Wanaka and found our way to our destination, the Wanaka Motor Park. It was sunny and fine but we took a room anyway, just to save time. The rates are so reasonable! This room cost only half what the room in Queenstown had cost or about $4 U.S. each, although we did have to pay extra for towels. Dinner was catered right in the camp and there was a laundry with no waiting in line! Life is good!
Goodbye, Alice
DAY 336
Wanaka to Haast
December 1, 2000
Although we were up early we had a late start because Joan had a flat tire. She expected it would be flat because the problem had started just before Puzzling World on the way into camp. She got away with it then by just pumping more air into it but by morning her luck had run out, the tire was definitely flat. When the flat was fixed we had to cycle to breakfast at the Muzza Restaurant which should have been fine because it was almost on our way out of town. But because we couldn't remember the directions even though we'd read the map which had been posted on the White Board, (the White Board is our communications center) we lost more time searching for it. Other riders were wandering too but some who were finished came by and told us the location. It was a good hearty meal, what seems to be the standard breakfast for us at least, in New Zealand: juice, coffee, cereal, eggs, ham, hash browns and toast.
We had beautiful scenery again, Lake Hawea was on our route, and the wildflowers were spectacular, lupine and the prolific bright yellow scotch broom (regarded as a weed but it is pretty) and small yellow poppies with orange centers.
But this was the day we met the infamous New Zealand wind, blowing head-on down the Makarora River Valley, making it tiring to even reach Checkpoint which was at the Makarora Tourist Center. Across the road two light planes were tethered in a field and I expected to see them blow away at any moment, but they didn't.
By Checkpoint we had cycled only 63 km. but because of the wind Joan had had it and put her name on the sag list. She was tired but also by sagging she hoped to get to camp before most of the riders. She wanted to have her faulty headset replaced by our mechanic, Dave, and she did. She was first in line when he set up shop at 4:00 in the afternoon. If she had ridden to camp she would have arrived too late to get the job done. I didn't like the wind but I wanted to ride so after enjoying a bowl of the famous Makarora Valley vegetable soup (served with garlic bread) and an ice cream bar, I was on my way.
The rest of the ride was very windy and then also very wet, with not much to look forward to but yet another narrow one way bridge. 'CAUTION narrow one way bridge' appeared on the DRG twelve times! To break the monotony one could look forward to the creeks under the bridges with names like Cache Creek and Roaring Swine Creek. There were other CAUTIONS as well: CAUTION rough road appeared twice, and CAUTION cattle guard three times. The warning sign before a cattle guard reads: Caution, Cattle Stop! as if the cattle here can read!
There were cattle in the fields but I saw none on the road. What is on the road is road kill, dozens of rabbits and opossums. The opossums are adorable with their beautiful, long, fluffy, reddish brown fur and bottlebrush tails, big brown eyes and big perky ears, but the Kiwis (New Zealanders) dislike them. They were introduced from Australia and are an ecological disaster because of their eating habits; they kill trees and eat food needed by the native birds, exactly which birds or what food I didn't learn. Late in the day I saw three wood pigeons fly out of the wood and land on a telephone wire which was quite an effort for them I think because they are so big. It looked like they couldn't get a good grip on the wire and it was touch and go for a moment while they rocked back and forth and the wire bobbed up and down.
It was after 6:00 and raining hard when I arrived at Check-in which by some stroke of genius or good luck, had been changed only a day or two earlier from camping to beds. We were staying at the Haast World Heritage Hotel, a 30 year old motel complex. I did not learn why it is called the World Heritage Hotel. Maybe it isn't. The highway on the west coast, Highway 6, is called the Heritage Highway. Perhaps the hotel is the Heritage Hotel, without the word world although that is the name given on the DRG.
For the first time and very likely a 'one of', our luggage had been put into our rooms. What a luxury! Just a little thing, but very nice after such a day. Ruth was my roommate and already there of course. She thoughtfully had the water boiling for a cup of tea, which both of us enjoy while unwinding after a long ride.
I just had time to shower and scoot to dinner. After that all I wanted was my bed. There was a skylight (a window in the ceiling) in our room. The rain made such a racket on it during the night that it woke me several times. I was glad my tent was not being put to the test.
Goodbye, Alice
---
Today's Music
---
New Zealand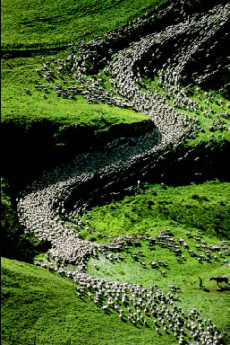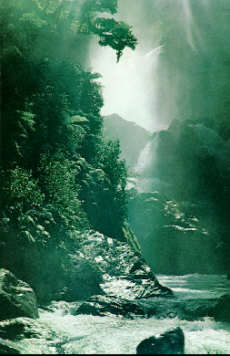 Bungee Jumping in South Island
The sport of bungee jumping originated in New Zealand in the late 1980s. Bungee jumping involves jumping from a high structure, such as this bridge in South Island, while attached to an elastic rope called a bungee. The bungee, made from looped lengths of natural rubber, can withstand the impact of up to 2,000 jumps made from heights of between 30.5 and 91.5 meters (between 100 and 300 feet). Bungee jumping is said to be derived from an initiation ceremony for the men of Pentecost Island, off the northeast coast of Australia. The islanders jump from platforms in trees or bamboo towers with ropes made from plaited vines or liana strands attached to their ankles.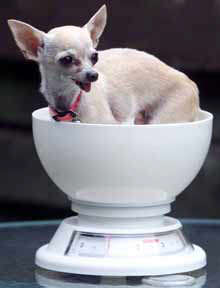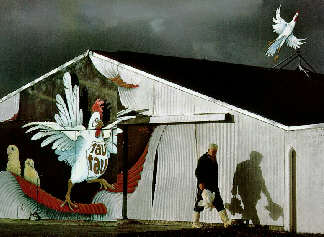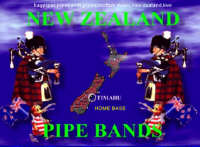 FEATHERWEIGHT CHAMPION: Weighing just 950g Phoebe the Chihuahua is leading the competition to find New Zealand's lightest dog.
Waikato Times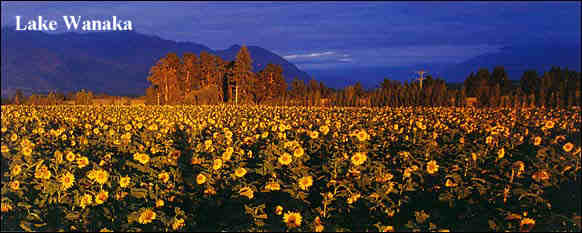 Lake Wanaka
Hot dry days, still warm nights, the air scented with sweet pine resin, lupins, briar rose, wild sorrel clover meadows.
---
Viet Nam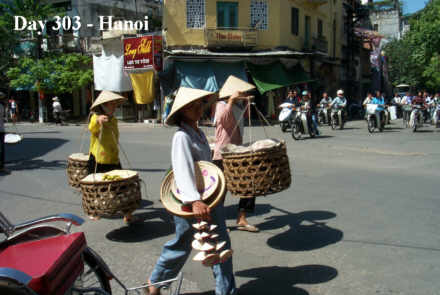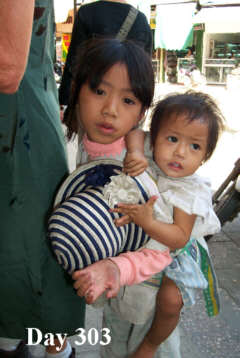 ---
Odyssey Riders and Staff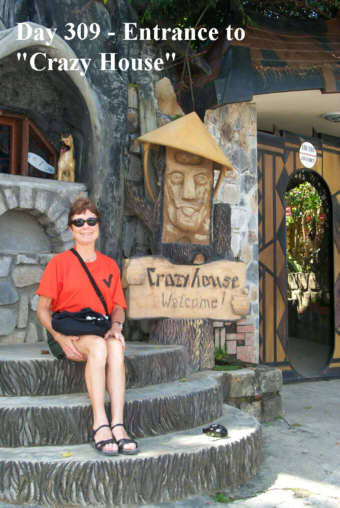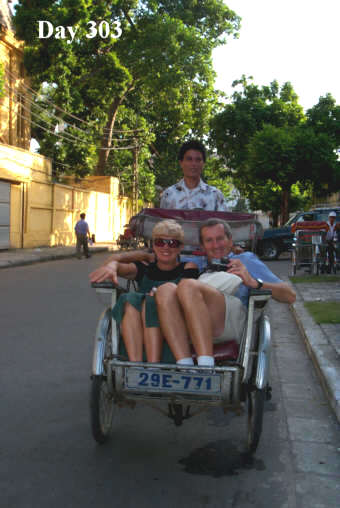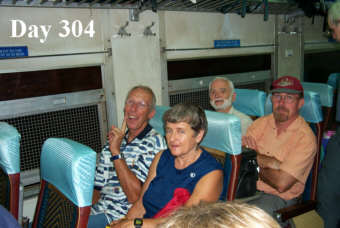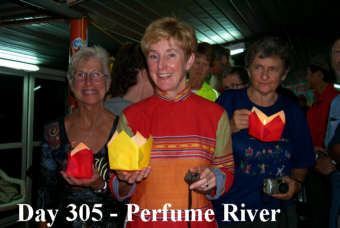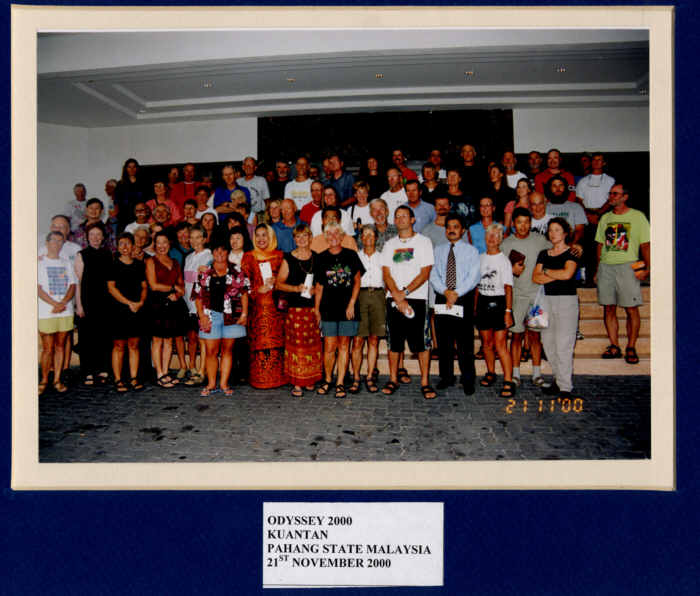 ---
Previous Page (Page 96) Next Page (Page 98)