Page 98
New Zealand

---
DAY 337
Haast to Franz Josef Glacier
December 2, 2000
When we cycled to Haast we had reached the area known as the West Coast, an area sandwiched between the Southern Alps and the Tasman Sea. When the moisture-laden wind blowing inland from the sea reaches the mountains it rains heavily, more than 3 meters a year! So of course it had to rain for us. It was raining when we arrived, it had rained all night and was still raining in the morning. It continued to rain the entire day, sometimes a drizzle but more often a downpour. It was the perfect weather for the temperate rainforest of the west coast. I found a poem about the rain which accurately describes the weather that I've seen.
The Rain (poet unknown)
It rained and rained and rained
The average fall was well maintained
And when the tracks were simply bogs
It started raining cats and dogs
After a drought of half an hour
We had a most refreshing shower
And then the most curious thing of all
A gentle rain began to fall
Next day was also fairly dry
Save for a deluge from the sky
Which wetted the party to the skin
And after that the rain set in.
How could I amuse myself for hours on the bike on a rainy day? (Joan had sagged so I rode alone.) Viewing the mountain scenery was not an option but bird listening was. The rainforest is home to many birds which were happily singing in the rain. I listened intently to their songs, but I seldom caught a glimpse of a bird. I wondered how they can stay dry enough to be warm and how do they manage to get enough to eat inbetween downpours?
The DRG was repetitious again, repeating 'CAUTION narrow one way bridge' 18 times! At 15.4 km came the understatement of the day: 'Some climbing ahead.' Wow! It was some climb alright, 10 unrelenting kilometers of a steep grade and switchbacks, head-on into a monster headwind. It was very tough. Three times I was nearly blown over but each time I just managed to gain control. Others were not so lucky but while some fell no one was seriously hurt. The climb finally ended at a view point, Knight's Point Lookout, where in spite of the wind and rain I enjoyed the view of the Tasman Sea and the pounding surf.
I was among many riders who stopped at a cafe near Lake Paringa to get out of the rain and to have some lunch. I ordered soup, a delicious cream of tomato soup which was served with garlic bread. Three days in a row I was served garlic bread with my soup. I think it would be safe to assume that garlic bread is a big favorite here in the South Island.
Then it was back into my wet coat which seemed wetter than it had been when I arrived and back onto the bike, pedaling into that dreadful headwind. It was even difficult to go downhill. Dickie described the ride when he said, 'I pedaled uphill all morning but found myself at sea level when I reached Checkpoint.' Checkpoint was on the beach of the Tasman Sea.
I made slow progress. By 4:00 I had cycled only 108 km. and though there were only 35 km. or so to go and I was looking forward to finishing, I knew it would take about 3 hours at my current speed. At that point I came to a sag van parked along the road. I stopped to rest a minute and to ask the driver, Amanda, about the remaining 35 kilometers. What she described was more of the same only even worse. Two more long, hard climbs both of which were followed by long steep descents stood between us and Franz Josef Glacier, our destination. That was very discouraging news. I was already tired, it would have been exhausting for me to ride into that wind for another 35 km., even without the climbs. I didn't think I had the strength left to finish, and I was nearly certain I couldn't finish before dark. I hated to give up after such a heroic effort to get that far, but it seemed the smart thing to do. Other riders were stopping and giving up so I joined the crowd. Amanda asked us to remove our sodden coats and other wet clothes before getting into the van but then we were cold. We had to wait for a full load of riders but that didn't take long and soon we were on our way to Franz Josef Glacier.
I could not believe my eyes when I saw the last 35 km.! It was some of the toughest riding we have had. The descents were so steep that people were losing their brakes, those that couldn't fix them on the spot had to give up and sag. To top it off, there was not a single word of warning on the DRG about those two passes!
It was raining so hard at the Franz Josef Mountain View campground that no one except Bruce had pitched a tent. Instead beds enough had been found for all. Joan had been able to get a two bedroom unit with kitchen for us to share with Sharon and Inge. They were all there, cozy and warm, eating potato chips and drinking wine when I came sloshing to the door. Inge had ridden the entire distance! Others did too, Else and Shar, Jim Higbee and Bill Bliss, Ruth and all the usual every milers. It was an awesome accomplishment.
But most astounding was that Karen Ann did that ride! She had resolved to ride every mile to Pasadena starting with the first day we rode in New Zealand. This day was her third consecutive day, without training and conditioning, and she had ridden every mile every day! I wouldn't have thought that that was humanly possible. It was an incredible accomplishment. I have an idea that in no time Karen Ann will be giving Bobbi, who has been riding with her, a run for her money. Years ago Karen Ann did a lot of cycling including racing and iron woman contests. It is interesting to see her in this new mode, she is now so cheerful, effervescent really, and she is having a super time.
Tim also tried riding on this day, the only day he's been on a bike this year except for the Tournament of Roses Parade last January 1. He began at Checkpoint and rode to Fox Glacier, a distance of some 40 km., where he gave up, exhausted. He had ridden one of the passes and in dreadful wind and pouring rain. Later when he was talking about the ride with Mark and Sandy Bovee, tandem riders who nearly always finish and did that day as well, I overheard him apparently apologizing for planning such a long and difficult day, and he concluded by saying, 'I think I'll be apologizing for this year for the rest of my life.' That is so sad! This has been a tremendous year, those who could roll with the punches have had a great time.
Goodbye, Alice
DAY 338
Franz Josef Layover Day
December 3, 2000
The thing to do in Franz Josef is to see the glacier. There were several options including helicopter sightseeing but Sharon, Inge, Joan and I chose to do the half-day walk on the glacier. We had the great good luck to have a mostly sunny day although it was never clear enough for the helicopters so those trips were cancelled, disappointing several riders. The glacier walks on the other hand are never cancelled because of poor visibility or rain, but I doubt I would have gone had it been raining. I'd had enough of being soaking wet!
We were outfitted with the necessary gear: boots with metal teeth on the soles, wool socks, hats, gloves and raincoats. A bus took us to the parking area near the glacier where we met our guides and began our walk to the glacier. Each of us was carrying a backpack filled with the heavy boots and the clothes issued to us. We walked along the river bed, sometimes climbing over big boulders, other times trying to balance on stepping stones to cross the river without getting our feet wet. We hiked for 2 or 3 km. to reach the front of the glacier. Once there we put on the ice boots and the warm clothing and listened to instructions.
On the steepest parts stairs had been cut into the ice and rope handrails had been put into place. Wherever there was a rope we were required to hang onto it just in case we should slip or someone above should slip and fall onto the people below. That never happened. We climbed and climbed, going a distance of another 2 km. or so on the ice. It was quite beautiful even though the surface of the glacier in places is very dirty. There were big cracks or crevices and rounded holes, all scary places to fall or slide, but pretty to see because the ice at depth is blue in color. At the surface the ice is clear and crystal-like in appearance and in fact a small piece of it could be mistaken for a sparkling, clear crystal. But where there is a crack or a hole the blue color appears.
The guide explained that the Fox and Franz Josef Glaciers are popular tourist attractions because they are easily accessible and the lower part of each one extends into the temperate rainforest where the climate is warm and comfortable. But the glaciers begin high in the mountains where the snowfall each year measures 15 meters. That snow is eventually compacted by a combination of weight and melting to form bluish glacial ice. Gravity causes the ice to flow down the valley as though it were a stiff liquid. The melting ice on the surface is constantly replaced by ice which moves to the surface. The ice is moving both downhill and toward the surface. I find that hard to comprehend! The ice in the valley melts rapidly because of the warmer air at the lower elevation. If the snowfall is equal to the melting, the lower end of the glacier doesn't move. But if the melting is faster, the glacier retreats or shortens and conversely, an increase in snowfall causes the glacier to advance. At the Franz Josef Glacier it takes about 5 years of increased snowfall to bring about an advance down the valley. It can move with amazing speed; rates of up to 4 meters per day have been recorded at the Fox and Franz Josef Glaciers. In recent years though both glaciers have been retreating or getting shorter.
We took pictures and asked our guide questions and then it was time to start down. Nearly everyone was apprehensive about that but again we were given instructions and luckily the descent went smoothly.
Climbing the glacier was actually quite demanding physically. Someone with long legs must have cut the stairs because it was a hard reach for some of us. Once off the glacier we had to put our own shoes on and then traipse the 2 or 3 km. back along the riverbed to the bus. We were tired and grateful that we had chosen the half-day tour rather than the full day option. It was just perfect.
DAY 339
Franz Josef Glacier to Hokitika
December 4, 2000
It was a beautiful day for what turned out to be a scenic and wonderful ride. We rode through rainforest all day and yet it didn't rain! Up hills and down, with a headwind only part of the way. Just out of Franz Josef we cycled past Lake Mapourika where the mountains are reflected in the lake, tempting us to stop several times trying to take the perfect photo.
We were in a stopping sort of mood, ready to enjoy every moment of such a gorgeous day so we were an easy mark for a Maori crafts shop where some of the expensive articles for sale were handmade by the shop owner himself. He was quite a character and told us that he is half Maori which probably explains his talent and interest in Maori wood and bone carving. He told us that at one time the bone used by the Maoris might have included human bone, but these days only animal bone is used. The pieces that look old have been soaked in tea to give them that lovely aged color. His daughter is also talented and her beautiful t-shirts which she handprints with her design interpreting a Maori legend were for sale. Shopper Bill bought one. I wanted to but I have far too many already. The beautiful bone, wood and jade carvings were tempting but both Joan and I resisted.
The Maoris carved ornaments from jade as well as bone and wood. The Arahura River was the main source of the jade, which is said to be of the highest quality. The Maoris called it pounamu or greenstone. It is beautiful when carved and polished.
Another interesting stop was just before Lake Ianthe, north of Hari Hari, where there is an exceptional tree called the Giant Matai. It is huge and thought to be 1000 years old. Matai was a prized wood by the early lumbermen who harvested the virgin forests but there was an unwritten agreement among them to let that tree live. The Mataui is found only in New Zealand and is a hard durable wood, straight-grained and gold colored wood that polishes to a nice lustre. It is used to make fine furniture and for finished surfaces like doors, cupboards and window frames.
Then we came to a really fun place, the Bushman's Centre. How could we not stop? Hanging from the eave is a giant sand-fly, really giant, dinosaur size. Of course we had to stop to take a picture of that and then one thing led to another and there we were inside, shopping. The owner has a sense of humor that tickled me. Just inside the door is posted a sign that reads, 'If you are smoking you had better be on fire.' That's funny! Another poster says, 'Untended children will be sold as slaves.' Serious messages in tongue-in-cheek language. The Bushman's Centre was more than a shop. For a fee one could enter a sort of museum to see demonstrations of a Bushman's skills, axe throwing and things like that, and also to see a couple of live animals. The pet opossum stole my heart. She was about four years old, hand-raised after being rescued when a car hit its mother. She had lovely reddish-brown fur that was unbelievably soft, and big round eyes of exactly the same color. !
This opossum is the Australian Brushtail which was introduced in the 1800's in an effort to start a fur industry. Unfortunately the opossums are now a nuisance because there are so many of them. It is estimated that there are 90 million that together eat 30 tons of trees every day. I asked why they haven't multiplied so rapidly in Australia where they are indigenous. The answer was that their favorite food, eucalyptus, is toxic to them. In New Zealand there are few eucalyptus so they have to make do with other types of trees. The other interesting animal was a pet wild boar, which had been trained to sit on command for a tasty reward.
Hokitika was a charming little town on the Tasman Sea. We didn't pedal into town until about 5:30 though so we had no time for sightseeing. Joan and I took a room in the Black Sands Motel which was very conveniently next door to the Shining Star Log Chalets and Campervan Park, Odyssey's destination. We rushed through showers in time to catch the very last shuttle into town for dinner.
Goodbye, Alice
DAY 340
Hokitika to Westport
December 5, 2000
This was a day of spectacular scenery. For the first 110 km. we rode along the coast on the Coast Road, a Heritage Highway. The views of the beach, the sea, the rocks and islands, were as beautiful as any anywhere in the world. It was quite a remote area, sparsely populated and unspoiled. There was still rainforest on our right: palm trees, tree ferns, flowering trees, and pine trees. There were no lupines but in their place were purple foxgloves. The air was filled with the fragrance of the flowering trees and the sound of the surf. We were just about the only people to be seen but sometimes there were cattle, sheep, and domesticated deer and elk grazing in the fields.
Checkpoint was at the famous Pancake Rocks, 80 km. from Hokitika. It was lunchtime and I was hungry. Even before going to see the rocks we ate lunch at a cafe there, and of course we had the specialty, pancakes! It was a stack of three pancakes with sliced bananas between the layers, fresh fruit and whipped cream piled alongside, maple syrup in a pitcher. It was good, but a surprise because the pancakes were cold. We have seen cold pancakes in other countries so obviously that is the way a lot of people prefer to eat them.
The Pancake Rocks are a pretty amazing sight, a strange limestone formation of alternating layers of hard and soft rock. The layers were formed on the seabed 30 million years ago, of marine plants and animals. When they were lifted by earthquakes and exposed to rain, wind, and seawater, they eroded unevenly resulting in rock formations that resemble stacks of giant pancakes. At high tide seawater surges through cracks and blowholes in the rocks resulting in walls and columns of spray that can be seen from a long distance. But we were there at low tide and so missed that special spectacle.
Again we arrived late into camp, so late that we had to eat dinner before showering. Inge, who is a much stronger and faster rider than Joan and I, had reserved beds for us. We spent the night in an old 'caravan', our least opulent digs yet, but we were grateful to have it. So far we have been 100% successful at avoiding tenting! So why am I still behind on the webpage?
DAY 341
Westport to Saint Arnaud
December 6, 2000
There were several wekas scurrying around the campground. They are small brown flightless birds, comparable in size and color to kiwis, and often mistaken for kiwis by tourists eager to spot one. But they are quite different in appearance especially about the head, eyes and beak, and are active during the day rather than the night. We have seen them running across the road and others who have become victims of the traffic. The birds in New Zealand are fascinating to me because there are species here that are not found elsewhere. But they are much easier to hear than to see. One bird sings so beautifully it could be a canary and others have bell-like calls. There are so many birds singing and calling that I know there are millions of them out there. What a contrast to China where nary a bird was heard.
Checkpoint was at the Buller Gorge Swingbridge. I arrived there early in the day because I had sagged, my strategy being to make it into camp with hours to spare so that I could have time to get current with the web page writing. The sag van stopped at Checkpoint and stayed there long enough for me to play. A number of activities were available including rafting and gold panning, but the obvious attraction is the Swingbridge. This suspension bridge is the longest in New Zealand, 110 meters, and spans the Buller River. I walked across the bridge that is just wide enough for one and made entirely of wire. It has wire sides and wire rope handrails so it is safe enough but it does bounce and swing, making it fun to walk. On the other side there is a fast way back called the Comet Line. It is described as 'the first commercial long distance high speed flying fox in New Zealand'. It was 160 meter flight and really fun, but lasted less than a minute, not enough!
TK&A had found a place with beds enough for all of us, The Rotoiti Lodge. It was dormitory style, and quite fun with so few of us. I did arrive in time and I did get current with the web page!
Goodbye, Alice
---
Today's Music
The Battle of the Somme
---
New Zealand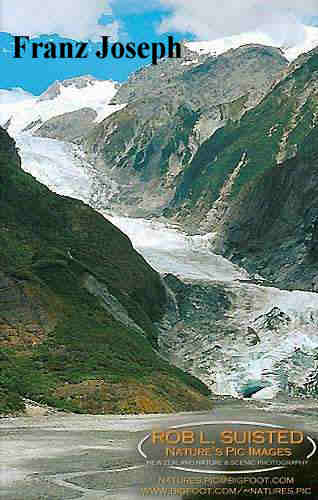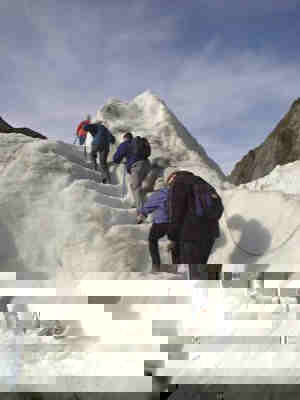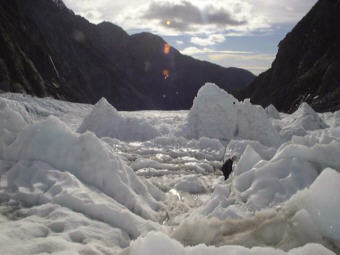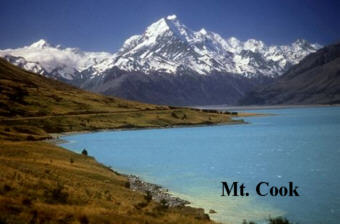 Mount Cook
Snowcapped Mount Cook is New Zealand's highest mountain, at 3,754 meters (12,316 feet). Maori natives call it "the cloud piercer." Part of the Southern Alps range, Mount Cook is one of seven national parks on South Island. Sparkling lakes, such as Lake Pukaki southeast of Mount Cook, nestle in valleys below the island's glaciers.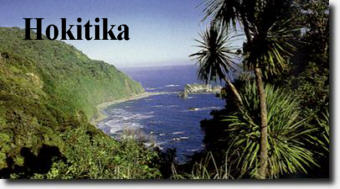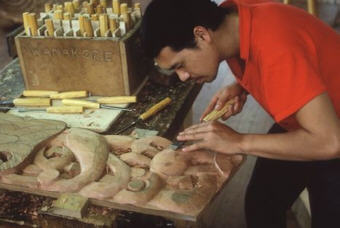 Maori Wood-carver
Maori wood-carvers descend from a long line of artisans. Traditional Maori believe that carving is a sacred practice. As the British settled in Maori lands, these crafts were devalued by the introduction of new technologies. Here at the Maori Arts and Crafts Institute in New Zealand, efforts to preserve Maori culture are under way with a revival of skilled wood carving and hand weaving.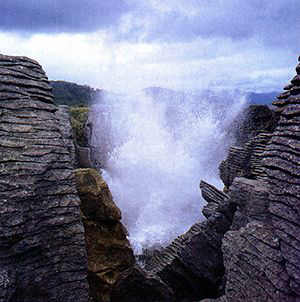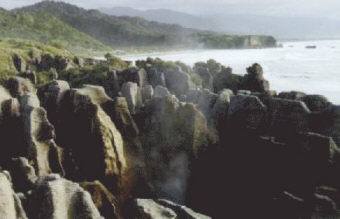 The Pancake Rocks, Punakaiki, are a unique natural attraction on New Zealand's South Island West Coast. Layers of water sculpted limestone, resembling stacks of pancakes, form a fantastic tableau - made even more dramatic by the shooting geysers of sea spray often evident at high tides. These geysers come from the blowholes - water worn passages through which jets of seawater are forced in high seas. Quite awesome displays of rushing spray can be seen on many days of the year - because of the Tasman Seas' powerful wave action.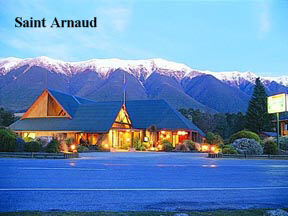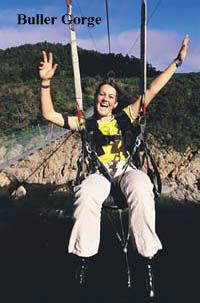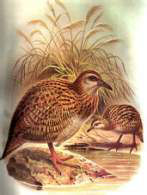 ---
Viet Nam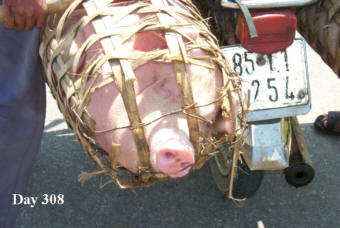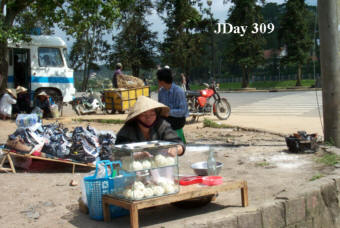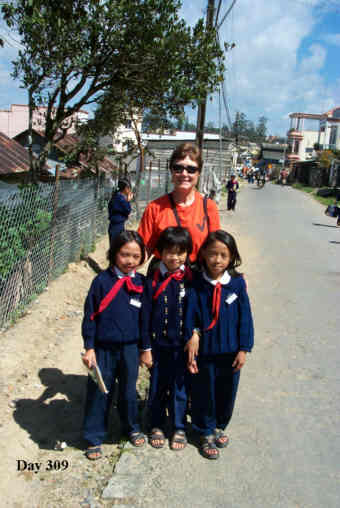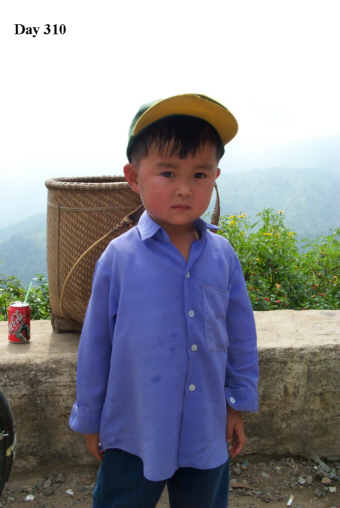 ---
Odyssey Riders and Staff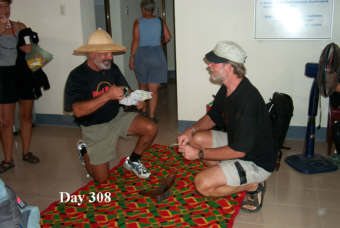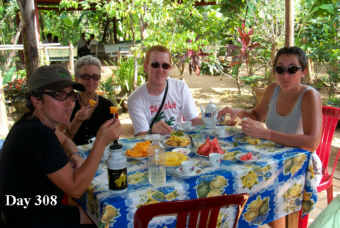 ---
Previous Page (Page 97) Next Page (Page 99)