Page 99
New Zealand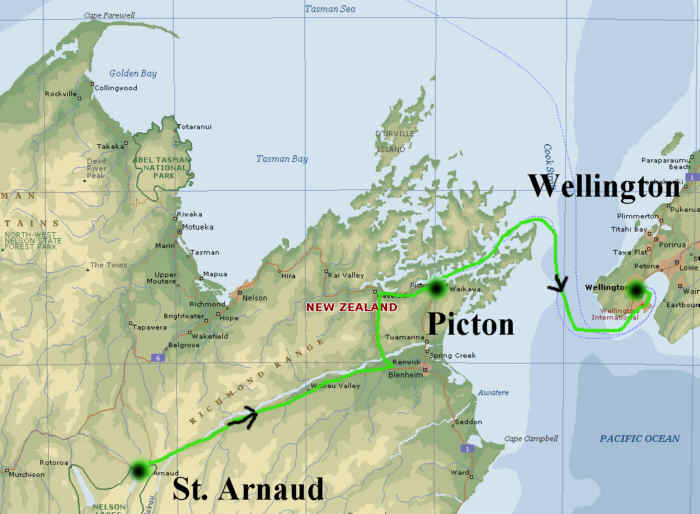 ---
DAY 342
Saint Arnaud to Wellington via Picton Ferry
December 7, 2000
This was the day we left the South Island. We cycled 132 km. to Picton where we boarded a ferry for the three hour cruise to Wellington. There were only two ferries we could take, the 1:30 and the 6:30. Some of us felt we could not ride that far fast enough to make the 1:30 ferry but others were sure they could and determined to do it. They were up before the crack of dawn and on the road as soon as it was daylight. There were only 41 tickets available for that ferry and they were determined to be among the 41.
Joan and I felt resigned to the later ferry and didn't make an effort to start particularly early. Weren't we surprised when once on the road we found ourselves whizzing along like racers thanks to a fantastic tailwind. If we could keep up that pace we had a chance at the early ferry! When we reached Checkpoint we learned that there were 39 riders ahead of us. That meant we would get the last two tickets for the ferry if only we could stay ahead of everyone behind us. So the race was on. Joan rides like the wind when motivated! Wow! The only chance I had of catching her was on the hills. Finally at 122 km. we had to stop to change to the second page of the DRG. Joan had eaten a peanut butter sandwich at our first stop but I hadn't and I needed something. I dug out a big 'Minimeal' bar cookie which I intended to munch as we went down the road but Joan didn't realize that. She said that if I was going to eat that then she was going on without me! She could see another rider approaching and she didn't want him to pass her. I explained that I would eat as I rode so we were out of there.
Our benevolent tailwind had become a crosswind/headwind at 104 km. where we made a right-angled left turn toward Picton. It was tough going to battle that wind, eat my big cookie and breathe all at the same time.
The good news is that we succeeded in getting to the ferry in time. We also set a new world record for speed for ourselves, 27 km./hour! But unfortunately our race to the finish meant we couldn't stop to explore and enjoy the scenery which was really very gorgeous. We were in the Wairau Valley which had a mountain range on either side; big fat green hills, one after another, partially forested, partly cultivated. The crops included hay, fruit, and grapes. Sheep and cattle grazed in the fields. Cherries were for sale along the road but we whizzed past everything.
At the ferry dock we were told that there were plenty of tickets after all, enough for everyone who could arrive in time. Apparently more had become available. The ferry limits the number of passengers, perhaps to be sure there are enough life vests for everyone, but has a capacity of 997 passengers. The Interislander Transrail ferry, ours was the Arahura, is an enormous ship, so big that trains drive right into it. We watched while a remote controlled engine pushed four sections of 15 cars each onto the lowest deck of the ferry. While the railroad cars were being loaded on the lowest deck, trucks and passenger cars were backing down a long loading ramp to load the car deck. Our turn to load was last and late, delayed until all the trains could be loaded, because we had to walk down the train track and park our bikes next to the railroad cars. Then we were free to enjoy the 3 hour ferry crossing on the passenger deck where there were several activities available, even a movie. I didn't go to the movie but chatted with other passengers, tried to write e-mail, and took a nap.
We had only a few kilometers to cycle in Wellington and it was relatively easy because we just followed the leaders. Trueheart and Racer Bob were at the front and they led us straight to McKenzies' Residence Hall. It was exciting to be a part of that long line of cyclists, better than the Rose Bowl Parade.
At MacKenzies Hall there was a garage attached with space for our bikes, Pat and Brit-Simone were ready with our room assignments and keys, and not only that but they had delivered our luggage to our rooms. Terrific! We were also pleased that each of us had a room to ourselves within a pod; a cluster of four bedrooms and three shared common rooms including a bathroom, kitchen, and lounge. My pod mates were Ruth, Sharon and Shirl. Shirl had decided to stay in Picton to enjoy that colorful little town and would take the later ferry. But the rest of us settled into our rooms and showered, finishing just in time for dinner. What a banquet that was! There was roast beef, oven roasted potatoes, rice, a medley of oven roasted vegetables including sweet potatoes, winter squash, carrots, garlic, green and red peppers and mushrooms. The tossed salad was extraordinary. There were several lettuces, sprouts, avocado, onion, tomato, cucumber and strawberries! Warm whole grain rolls, fresh fruit, and warm apple crumble with whipped cream rounded out the meal, and our waistlines! We are eating like kings and with so few of us, 71 I think, we don't have to stand in lines or compete for anything. It is ever so nice.
After dinner Joan, Sharon and I went for a walk to search out the nearby bicycle shops and a post office. We were getting ready to do our usual layover day chores first thing in the morning.
Goodbye, Alice
DAY 343
Wellington Layover Day
December 8, 2000
First things first, we had to do our chores before we could play. Too much of each layover day seems to get squandered on chores. At least we have finally realized the inevitability of that and no longer plan or hope to see everything as well. My priorities included buying a new wheel or at least a rim at a bike shop and mailing a package at the post office. As Joan had the same needs we went together.
We wheeled our bikes first to one shop and then to another seeking rims of the right size. At the second shop, the Penny Farthing, we may have been able to buy them but were told that neither of us really needed them. That was just what I wanted to hear! I think things should last forever so I didn't question his opinion over that of Dave, our mechanic. But after looking at my bike the clerk told me that my front wheel's cones were shot and my rear brakes also needed replacing. My bike also needed a new rear cluster, a middle chain ring and a new chain but I knew that. I wanted the remnants of my fenders replaced by new intact fenders. They could do all that except replace the middle chain ring because they didn't have one. I hated to put so much money into the bike at this late date but felt I had to. My bike would be repaired and ready at 4:00. Joan decided not to get a new wheel because she was reassured that while her front wheel might be noisy at least it wasn't dangerous. She walked her bike back to the Residence Hall and I went shopping. I found everything I needed in one store!
Back at the Residence Hall I got my package ready to mail and walked to the post office only to discover once I was there that I hadn't brought the address! That wasn't the first time I've done that either. I think I will never be organized. Joan mailed a big box of stuff home and looked at her just developed photos while I found a phone and sent my e-mail.
By the time we were ready to go sightseeing it was already past noon and we were hungry. It seems that every other shop in Wellington is an eating place. We chose one where the food was already ready so it wouldn't take too much time. I had a sandwich similar to a schwarma but called a doner here.
It was a rainy day, perfect for a museum visit, and we had a wonderful one to see, the Te Papa. The Te Papa is located on the waterfront, easy to find, open seven days a week, and admission is free! Te Papa means 'Our Place' in Maori; by keeping it open seven days a week and by charging no admission the museum has been made as accessible as possible. It is a wonderland for children as well as adults. Te Papa is a marvelous place to study the history, culture, and the natural history of New Zealand. There are interactive displays where one can experience an earthquake or try a virtual bungee jump for example. But as we had only a few hours we focused on the exhibits pertaining to the Maori people and the history of New Zealand. We saw a long 'waka' or canoe and just beyond that the astonishing 'Te Hau ki Turanga', the great carved meeting house of the Rongowhakaata people. I read that a single man did all the carvings! It looked to me like the work would require a lifetime. Both the inside and outside of the house are decorated with carvings. The interior walls are alternating strips of wood carvings and woven mats of varying geometric patterns. We saw a 'pataka' or storehouse on stilts intended for food storage that was entirely covered with wood carvings, obviously the original owner was a man of wealth. There were implements and decorative items made of stone, wood, bone and jade, or greenstone as it is called here. There was even a cloak made of bird feathers.
There were photographs and video recordings of some of the Europeans who had migrated to New Zealand more than a century ago. New Zealand must have seemed like a planet in outer space to those brave people who suffered great hardships and long sea journeys to reach it in their search for a better life.
After all that we had only enough time and energy left for a quick trip through Bush City, a bit of the outdoors of New Zealand, looking for the silver fern, which like the kiwi, has become a symbol of New Zealand. It was a search to find it amongst all the rainforest foliage but at last there it was! At first glance it looks similar to another more common tree fern except that the undersides of the leaves are silver. Some of the riders have purchased beautiful bike jerseys of white, black and silver featuring the silver fern.
On the way back to Mackensies' Hall we shopped a bit for souvenirs and stopped by the Penny Farthing to get my bicycle. It was ready as promised so we headed home for dinner and then repacking, to be ready to leave first thing in the morning. We would be riding in the North Island. More new things to see and experience!
Goodbye, Alice
---
Today's Music

Taking of Beaumont Hamel:

Beaumont Hamel was part of the great Battle of the Somme in 1916, but according to one authority "The Taking of Beaumont Hamel" commemorates a more amusing episode in this gruesome chapter of the War. A piper, lieutenant, and sergeant (no, it's not a joke…) found themselves in the invidious position of being cut off behind enemy lines at one end of the village of Beaumont Hamel, while on the other side of the town the Regiment was attacking the Germans holding it.
---
New Zealand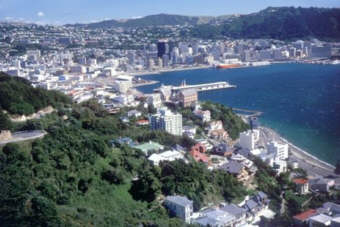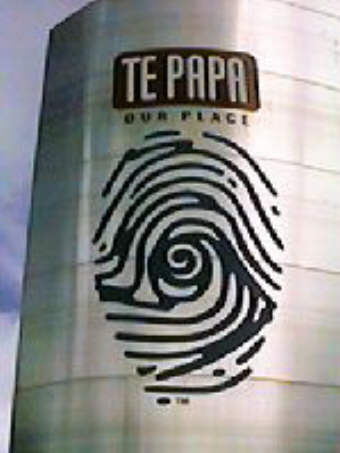 Windy Wellington
Powerful 97-kilometer-per-hour (60-mile-per-hour) winds that often sweep across Wellington have given it the nickname Windy Wellington. It is the capital and cultural center of New Zealand, and its sheltered harbor ranks among the finest in the world. Mountain peaks squeeze the city against the sea. Wellington, which is subject to earthquakes, experienced a major earthquake in 1855 that resulted in a local uplifting and expansion of the city's coastline. Much of Wellington's commercial district is built on this new land.
The National Museum of New Zealand
Te Papa, New Zealand's new national museum opened on the 14 of February 1998. The Museum is located in Wellington the capital city. With waterfront views and a unique architectural design, Te Papa should become one of the cities most visted attractions.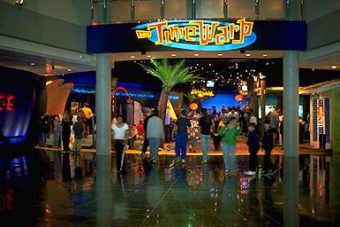 Te Papa challenges the concept of what museums should be. Many of the exhibits celebrate & educate what it means to be a New Zealander. But what makes this Museum standout from the rest are the exhibits themselves. Many of these exhibits are interactive and make you feel like you are virtually there. The Museum has 4 main areas, they are the Discovery Centres, Te Marae, Bush City & the Time-Warp.
Time-Warp is Te Papa's main attraction. This area of the Museum is a virtual show about New Zealand. From New Zealand's Volcanic Birth right up to Wellington in the year 2055, this experience entertains and educates you as you take this virtual reality tour through time. Or how about a virtual Bungee Jump or a spot of virtual Wind Surfing. The Time Warp is alot of fun for all.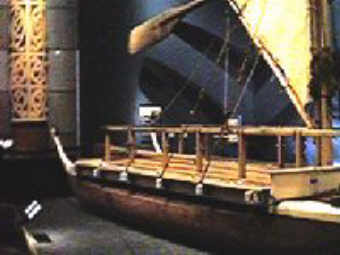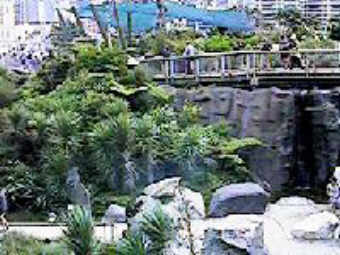 Kon Tiki (Left)
Te Marae - is a Marae that exists within a museum. Here you can learn about New Zealand's facinating and rich Maori culture. There are also many Maori Artifacts and exhibits with many beautiful examples of Maori Carving. Te Marae is for all New Zealanders and a place that all of us can stand together to celebrate our multicultural society.
Bush City is an outdoor area of Native Bush that one can walk through. There are many Native New Zealand Plants here together with a river and small waterfall. Bush City is located between the Museum Building and a man made lagoon. There are also many great views of the Wellington Harbour and city. Other special features include some volcanic rocks and a small cave.
---
Viet Nam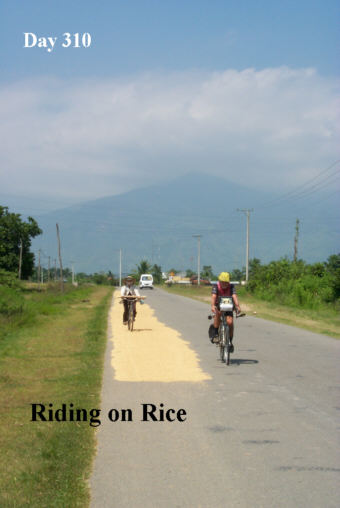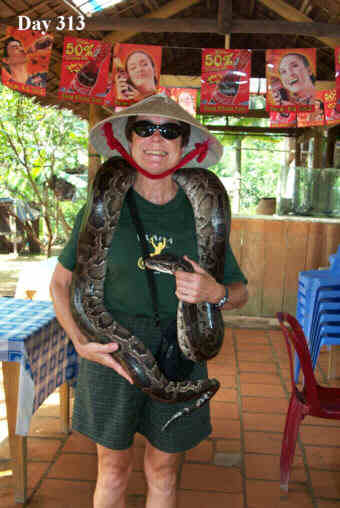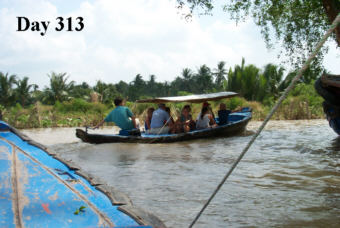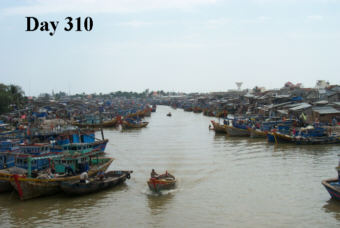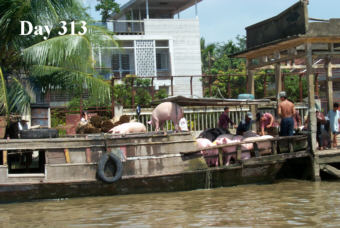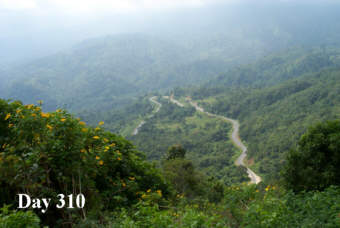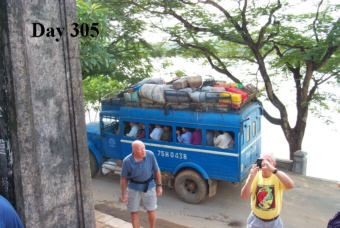 ---
Odyssey Riders and Staff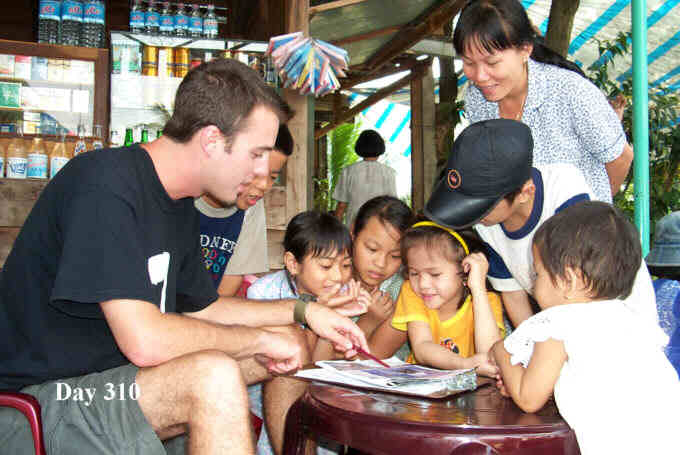 ---
Previous Page (Page 98) Next Page (Page 100)