Page 100
New Zealand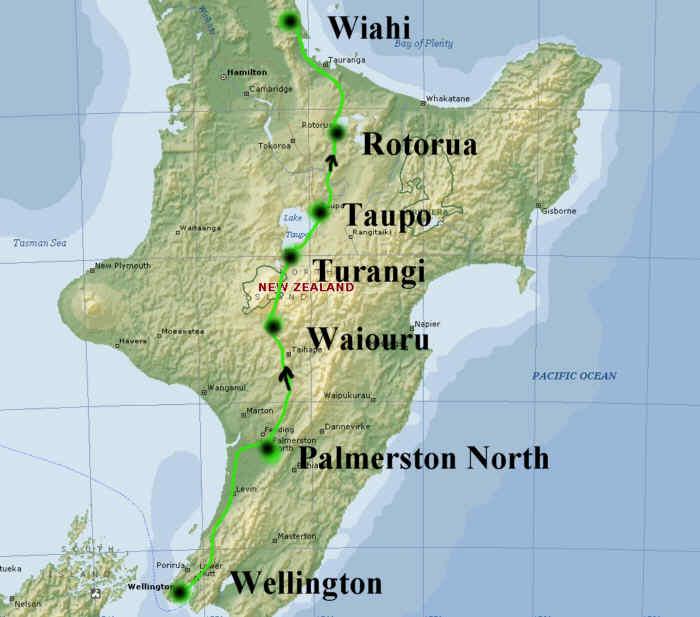 ---
DAY 344
Wellington to Palmerston North
December 9, 2000
Cycling out of Wellington was relatively easy because there was little traffic that early in the morning. We had a better opportunity for a glance now and then at the waterfront and some of the interesting and unusual architecture like life-sized silver-colored palm trees. We stopped once, which gave me an opportunity to photograph the Pohutukawa, a beautiful tree that bursts into bloom with fluffy red flowers in December and is commonly called the Christmas Tree. It grows wild in the North Island, but is widely used as an ornamental tree.
This was to be a 95 mile day, a long day just when I wanted to get to camp early because Hazel was coming to meet me. Hazel is a real Kiwi from Turangi, a historian and a Maori expert. She became a family friend about 40 years ago on a visit to the U.S. and has stayed in touch with my mother all these years. We had had a splendid visit at her home three years ago and I was excited at this opportunity to see her. Hazel had been following the Odyssey adventures and was looking forward to meeting all the characters in this ongoing drama. I didn't want to keep her waiting.
But I was having bike trouble. I should have expected it I suppose because I had had similar trouble the other time I had had the cassette and chain replaced which was about halfway through the Odyssey. Every hill was a problem because the bike would not shift properly. I would lose momentum and very nearly come to a standstill before the thing would finally shift or if it didn't I would have to stand on the pedals and grind up the hill. I couldn't use the smallest chain ring or easiest gears at all. Since I had no idea how to fix it myself I just had to struggle until I finally reached Checkpoint at 86 kilometers. There Dave adjusted it and we were off again. But it wasn't much improved and I decided the only solution was not to shift at all but to just make do with the middle chain ring. I went along like that until I forgot the plan and tried to shift to a higher gear. Suddenly there was no resistance whatsoever for the pedals. They just spun madly in circles and I lost momentum, finally coming to a stop. When I tried to start there was just more spinning but it eventually 'caught' and the wheels went around so I was on my way again. But later when I stopped to look back for Joan the same thing happened. The pedals were spinning, the chain was going around, but the wheels didn't turn. I'd never experienced anything like it and couldn't even guess the problem. So I just kept trying to start until something connected somewhere and the bike finally moved. I decided then not to stop or shift until I came to a sag van. At last I came across Paula only 20 km. from camp. One hates to quit so close to camp but my bike was unreliable and it was already 5:00. For sure Hazel would be there waiting, and furthermore I had to get in line for the mechanic before 6:00.
Paula took me to camp in time to join the line for the mechanic, Dave. Hazel was already there, asking everyone where I was. I put my bike in the line with the others to try to hold a place while Hazel and I went to Reception to see about a room. We got the last one, but it wasn't much. As Hazel had already pitched her tent she chose to use it rather than to share the room with Joan and me. Then we stood in line with my bike, the very last in line. When I described the spinning problem to Dave he knew immediately what it was. The hub of the rear wheel was worn out. It could not be repaired. I would have to have a new one. The rim of the rear wheel was also severely worn from the brakes so altogether what I needed was a new wheel. That's when I had a stroke of luck. Dennis, Rider #1, had just replaced his rear wheel with a new and better one. I could have his wheel! So quick as wink Dave put my tire and tube on my 'new' wheel and installed it on my bike. Was I lucky or what! !
Without Dennis's wheel I wouldn't have been able to ride until I could find a suitable replacement. Then Dave adjusted the gears and I rode the bike around the camp returning to Dave a couple of times for fine-tuning of the shifting system. At last my bike was ready to ride.
But by this time dinner had already started. Joan was ready so I asked her to take Hazel with her to dinner and I would join them after having a shower. That was rather a long time later I am afraid because I walked with Susan and Hewes who as it soon became evident, didn't know the way after all. Eventually though we found the restaurant, Victoria House, in a magnificent garden in the Esplanade. Hazel and Joan had nearly finished their dinners and had just managed to save a glass of champagne for me from the bottle Hazel had brought to dinner.
We introduced Hazel to as many riders as possible, all of whom she was tickled to meet and felt as though she knew from reading the web page reports.
Then we strolled through the aviary and the rose garden. There were quite a number of exotic birds there from New Zealand, Australia and even China. It was great fun to see Australian birds again; the very loud sulphur-crested cockatoos, the quieter rose pink and grey galahs, and the colorful lorikeets. One of the Chinese birds was the resplendent golden pheasant I'd seen in an aviary in China. My favorite of the New Zealand birds was the 'cheeky' kea, which as Hazel explained, can be a real nuisance. They do naughty things like pluck windshield wipers off cars and eat the rubber molding around the windows. The rose garden was in full bloom with roses of every color, but as we discovered to our disappointment, little or no fragrance. We found only one, the Emperor, which was as fragrant as a rose should be.
Then we hastened to bed. Joan and I would be up and on the road bright and early and would look to meet Hazel later in the day at Checkpoint. So exciting!
Goodbye, Alice
DAY 345
Palmerston North to Waiouru
December 10, 2000
We were on the road as early as usual, leaving Hazel behind in her tent to fend for herself. Later she told us that she found that particular campground, Palmerston North Holiday Park, to be the worst she has seen in New Zealand. There wasn't even a kettle in the kitchen to use for heating water for tea! For our part, the beds in our room were saggy, there was no bedding and no towels. But in general the campgrounds and the cabins have been excellent. There's no need to have a tent or a camping trailer in New Zealand for ordinary touring.
The route was hilly and it was windy. Joan was struggling and planning to sag at the first opportunity so I went ahead alone. We had a lunch date with Hazel to keep. When I reached Stormy Point Lookout at 50 km. I hoped the climbing was over but no such luck. I was soon to find that I hadn't seen anything yet. Stormy Point Lookout offers a wide vista of what appears to be rather ordinary countryside with green, ridged hills and grazing sheep, but the ridges are actually a sequence of river terraces, each major terrace having been formed during a period of cooler climate. It is said to be one of the best preserved examples in the world.
There was a fast, curvy descent after Stormy Point which almost made all the climbing worthwhile. When I arrived at Checkpoint Hazel was waiting by the roadside and gave me a cheer and Joan had been there awhile, having arrived by sag van. We had a moment of excitement when a car came too fast around the curve at that spot and rolled over into the empty lot across the street, just missing a concrete telephone pole. Two girls popped out of the upside down car and appeared to be unhurt. Luckily they hadn't wiped out any other cars or any cyclists.
There was a cafe at Checkpoint but Hazel knew of a better one just down the road. Joan and I cycled the five kilometers to the Flat Hills Tourist Park while Hazel whizzed there in her car. Hazel was right, the food was good. We all ordered lamb. Hazel had a cold lamb sandwich, Joan a lamb burger and fries, and I had what Sharon had been pining for, a hot lamb sandwich.
Before we could leave Joan had to change her tire which had been losing air and requiring frequent pumping. She found a piece of glass in it and soon had the new tube installed. She's getting proficient at changing flat tires having had lots of practice lately. I gave her a hard time though for not changing it earlier while waiting for me to cycle to Checkpoint but she explained that she had forgotten to do it. I wish she would put Tuffy tire liners in her tires.
Finally we were back on the road but had cycled only a few kilometers when Joan said she was too tired and I should go ahead. The combination of hills and headwinds were too much. I rode the last 50 or 60 km. by myself, battling against the wind and hills the whole way. I stopped once for 5 minutes to eat, but other than that I just kept pedaling, finally reaching camp at the Waiouru Army Camp just after 6:00, just in time for dinner I thought. But no, this was a military base with rules and procedures, dinner had been changed to 5:00. But Pat knew how many of us were still out and had had take-away plates prepared for us. I received an enormous heap of beef stroganoff, squash and sweet potatoes which I ate alone because Hazel and Joan had eaten an hour earlier at 5:00.
While waiting for me, Hazel and Joan had loaded Joan's bike and stuff into Hazel's car, ready for the drive to Hazel's home in Turangi. I was holding up the show so I scurried to load my bike and to pack only the things I would need, putting my big bags back on the luggage truck. Then we set out and while looking for a weather report Hazel tuned the car radio to a station playing a program she had wanted to hear but had forgotten in all the Odyssey excitement. She turned up the volume and said, 'That is me talking'. It was part of a speech she had made to open the millennium exhibition, 'Parihaka, The Art of Passive Resistance', at the City Gallery in Wellington. The exhibition included a series of public lectures, poetry, music and art by the people of Parihaka. The radio program we heard was a composite of parts of the speeches and the music that were presented. Hazel was asked to give the opening address because she was the historian for the claim the Parihaka people made a decade ago for the return of land confiscated by the government in the last century. I was thrilled to hear the program which was beautifully arranged, and to learn more about the Maori people and their struggle against the colonialists. It seems to me that a similar struggle occurred in every land around the world that the British claimed as their own. Bloody awful, I say.
When the program was over we continued on our way and were thrilled to be able to clearly see the majestic volcano, Mt. Ruapehu, which at 2797 meters could just as well have been hidden by clouds. Mt. Ruapehu is an active volcano in Tongariro National Park. A spectacular explosion in 1995 was unexpected and caught skiers by surprise but it is not erupting at present and didn't perform for us.
It was only an hour's drive or so to Hazel's home near Turangi where she lives on a bush-covered hillside overlooking Lake Taupo. She settled us into our rooms and we convinced her that we'd really rather spend the next day with her than to get back on our bikes and rejoin the others who were cycling from Waiouru to Taupo. She must have thought we were being lazy for sure but who could give up a day with Hazel for another day on a bike?
Goodbye, Alice
DAYS 346-347
Turangi and Taupo Layover Days
December 11-12, 2000
While everyone else arose at the crack of dawn to cycle from the army base at Waiouru to Taupo, we lazed in bed at Hazel's in Turangi. There was a storm on, wind and torrents of rain, so we knew the view of Mt. Ruapehu would be obscured for the riders. That's the trouble with mountains everywhere, always having their heads in the clouds!
Joan and I spent two lovely days with Hazel who is the ultimate hostess. She wined and dined us and carted us about the countryside, explaining everything to us. How can she know so much!
We visited Tongariro National Park in spite of the rain but though we couldn't see the mountain we did enjoy the new exhibits at the Visitor's Center. One could read and learn many amazing things about volcanoes, eruption detection methods and warning systems. Although it had nothing to do with the mountain we had come to see, my favorite exhibit was the kiwi exhibit where I pushed buttons to hear the distinctive calls of the male and female kiwis.
The second day we drove to Taupo where we would rejoin the Odyssey group who were enjoying a layover day there. When we arrived at the Taupo Motor Camp to check-in, we had reserved a cabin there, it was raining too hard to get out of the car! So Hazel drove the short distance to Huka Falls where by some miracle it was not raining. We stopped to enjoy a walk in the sunshine and a look at the incredibly clear, blue and fast-moving water. Huka Falls is near the upper end of the Waikato River, New Zealand's longest river, and major provider of electricity. Upstream the river is 100 meters wide and 4 meters deep but when it reaches the gorge that forms Huka Falls, all that water is forced into a channel that is only 15 meters wide and 10 meters deep. The racing water gushes through the gorge. It is a beautiful spectacle.
We returned to the motor camp and just had time to get our key and unload the car into the cabin during a lull in the downpour. Hazel had packed a picnic lunch in a "chilly bin" which we munched right down and then we were off again, this time to go shopping in Taupo. We spent hours at that! In the evening we enjoyed a dinner at the Taupo Yacht Club and a bit of a walk into town. We took pictures of a huge metal trout which has been erected to welcome visitor's to Taupo and enjoyed the golden sunset on the lake. At the far end of the lake we could just make out the outlines of Mts. Ruapehu, Ngauruhoe and Tongariro amongst the pink and grey clouds. One of the main attractions of Taupo is the excellent fishing in the Waikato River and Lake Taupo. The lake is huge and the largest in New Zealand and almost anywhere I should think! It was a volcano that exploded 1800 years ago with such force that its occurrence was recorded by historians of the time in China and Rome. Lake Taupo was probably the greatest volcano to have erupted on Earth in the last 5000 years. Awesome!
Goodbye, Alice
DAY 348
Taupo to Rotorua
December 13, 2000
We tried to tiptoe out of camp, leaving Hazel to sleep until a more decent hour. We needed to be on the road early because we had to ride 84 km. and reach Rotorua by noon for a special Maori welcoming ceremony. We would be guests of theirs for the night.
At breakfast we sang Happy Birthday again, this time to Karen-Ann. She brought gifts for each of us, little festively wrapped bundles of candy, and after distributing those she unwrapped gifts from some of the riders. Then we were on our way.
The DRG had us avoid Highway 5 for the first 47 km. and we appreciated the quieter road. It was a cold morning and fog hung thickly in the low areas. I had to stop to cover my freezing, aching ears.
We passed areas where steam was rising out of the ground from vents in the earth's crust, a pretty amazing sight really, and that increased our excitement about reaching Rotorua. Checkpoint was at Reporoa, and very shortly after that our road joined busy Highway 5. But only 20 km. later we took a jog through logging country. Tim does try to get us onto quieter roads wherever possible. It was only 8 km. but a nice respite. The trees were all planted neatly in rows and all appeared to be the same species of pine trees. I suppose all that makes the logging easier, and while I liked all the greenness, somehow rows of pine trees don't make a forest. For me. We saw logging trucks loaded with logs and I noticed that they were all uniform in length and nearly so in diameter. After that lovely interlude in logging country we were back on Highway 5.
It was an easy ride and we reached Rotorua well before noon. We had to cycle past the enticing thermal sites and other tourist attractions though, making a beeline for the marae, for we could not be late.
We were being hosted by the Arawa Maori community. The grounds, which are like the center of the community, are sacred and consist of an outdoor square or plaza (marae), a meeting house (wharenui) and a dining room (wharekai). Te Arawa's marae, where we would be guests, was next to Lake Rotorua and to St. Faith's Church which many tourists visit to see the special sand-blasted window of a Maori Christ who appears to be walking on the waters of Lake Rotorua. Our group was fortunate to be allowed to stay on the sacred grounds of Te Arawa for the night and very lucky to have Hazel with us for she knows and understands the Maori customs and traditions. After dinner the previous evening at the Yacht Club, Hazel had undertaken the task of describing the Maori welcoming ceremony and instructing us on what would be expected of us. We all greatly appreciated that effort on her part for we wanted to be good guests and avoid offending anyone.
While waiting across the street from the marae for 12:00 when the ceremony would begin, we had lunch from the snacks in our bike bags and then it was later than 12:00 and nothing had happened. Eventually we learned that the welcoming ceremony would be at 4:00, which had been the time originally set, so we were not surprised really to learn that it would be at 4:00 afterall. In the meantime the Maori of Te Arawa were making an exception for us and allowing us to go onto their grounds before the welcoming ceremony. So we unpacked the luggage trucks and settled ourselves. We could sleep in the meeting house or pitch our tents outdoors. Hazel, Joan, and I were among those who chose the meeting house, of course. Who would miss that special experience? The Maori were well prepared for such an event with tall stacks of mattresses and pillows, baskets of sheets and pillowcases. We each carried a mattress into the meeting house and made our beds on the floor. Then most of us dashed to get our clothes changed so that we could see something of Rotorua in the few hours that remained.
Hazel took Anita, Joan, and me in her car to visit the Whakarewarewa Thermal Reserve just a few kms. back up the road on the outskirts of Rotorua. There we visited the kiwi house (first things first you know) and then followed the paths through the grounds to see the bubbling mud pools and the geysers. The most active geyser is Pohutu Geyser which now erupts constantly, but the frequency of eruptions had been in decline until a year ago. People 'upstream' who had been using steam of the geyser for their own purposes were made to stop. It has now returned to its former gushing glory.
Next we visited the Maori Arts and Crafts Institute where one is usually able to watch apprentice woodcarvers at work but there was little activity. There were some beautiful carvings on permanent display though which I photographed and Hazel explained. The meaning or significance of the stylized carvings is not obvious to the uninformed.
We were back at the marae at 4:00 for the powhiri or formal welcoming ceremony. We waited outside the grounds until a Maori woman called for us to come. Then another woman led us onto the sacred ground of the marae, women first, where we paused for a moment to remember our ancestors and then took our seats with the men in the front rows facing the Maori. Although we women had walked onto the marae in front of the men, we were required to sit behind them for the rest of the ceremony. Formal speeches were given, first by two of the Maori men and then by two of our men, Tim and Neil. The Maori men gave their welcoming speeches first in their language and then in English. At one point we were supposed to sing but we weren't prepared for that so Hazel stepped up and filled the silence, doing the singing for all of us, in Maori no less. The Maori people sang with her. It was a beautiful and moving moment. The ceremony concluded with the hongi, a handshake and pressing of noses, each of us with each of the Maori.
Dinner was ready then and we were more than ready to eat. The still warm home-baked bread was a big hit with everyone. I ate four slices! Sweet potatoes, another favorite of mine, were served as was roast chicken and roast lamb, stuffing, lots of vegetables, fruit salad, cake and ice cream.
We were invited to a Maori concert at 8:00 which was held in a nearby large meeting house. The beautiful singing of the Maori concert performers reminded me of Polynesian music. Traditional dances which were unusual and perhaps unique to the Maori were performed. The men did the haka or posture dance. It looked like hard work and required skill and practice. They jumped about energetically, made fierce faces with protruding tongues and glaring eyes, and shouted in a loud and threatening manner. Then people from the audience were invited to participate. It was very funny to watch them try to imitate the Maori. The women sang and performed with the poi which is made of two orange-sized balls, one on each end of a cord, either short or long. The women perform in unison twirling the poi every which way, singing all the while. The biggest hit of the evening with our group though was probably the ti rakau or stick game, because our Odyssey choir plus others had been trying to learn to do the same thing. It isn't as easy as it looks. It was amazing to see how beautifully the performers did it, but they dropped the sticks sometimes too, which was really part of the fun.
The concert had kept us up past our bedtime so we hastened back to our mattresses in the smaller meeting house. (Each marae, meeting house and dining room have been named after ancestors but I have forgotten the names I am afraid.) Shoes are not worn inside the house but have to be left at the door. There are other customs to be observed as well for the house represents the body of an important ancestor. When the lights were out and I laid there in the near darkness, I noticed for the first time the intricate designs painted in white on the rafters. The interior walls of the house were decorated with carved wooden panels which represented people and events of the past. The paua shell eyes of the ancestors reflected light and made them appear to be watching over us. It was a special moment, felt and shared by all of us. We wished each other a good night, and everyone became quiet, savoring the experience.
Goodbye, Alice
DAY 349
Rotorua to Waihi
December 14, 2000
We had to begin this 'no good very bad horrible day' by saying goodbye to Hazel who had just instantly become one of us, and it wasn't an easy thing to do. Everyone had enjoyed her company and she had patiently shared her great store of knowledge of the Maori and the flora and fauna of New Zealand with us. She is a national treasure!
This was a long day, partly because we had to spend 100 km. of it on the very busy Highway 2 which was not fun. The distance and the hills would have made it a hard day anyway, but the traffic was the real problem. The tractor-trailer trucks were enormous and fast, as wide as the lane, and with oncoming traffic they couldn't help but be on the white line which was all we had to separate them from us. Not only are we at risk of being sideswiped but when the wind and terrain are just so, the draft created by a fast truck or bus can raise havoc with a bicycle, tossing it this way and that.
We've hardly seen a bike lane or bike path anywhere in New Zealand and the shoulders are minimal to nonexistent, yet in spite of these problems there are heavily loaded touring cyclists on the roads every day. New Zealand is a favorite destination among cyclists, but it concerns me that the country doesn't appear to be making an effort to make it safer. Perhaps the citizens themselves do not ride on the highways and therefore no one is badgering the government to provide for safer cycling. So I say, by all means come to New Zealand to cycle, but plan the routes to avoid major highways.
We cycled past kiwi orchards which might look like vineyards if one didn't know better. I stopped for a closer look and a photograph of the vines and fruit which were too small yet to be picked. Hazel told me that kiwis had been called Chinese gooseberries until the 1960's when someone, probably in marketing, came up with the name kiwi. A good choice, for first of all it is a fun word, secondly the people are affectionately called kiwis, and the little fuzzy brown fruit rather resembles the kiwi bird which exists only in New Zealand. I asked Hazel which came first, kiwi the people or kiwi the fruit. And the answer is... kiwi the people!
There were avocado orchards too and I saw avocados offered at a bargain price at roadside stands, the equivalent of 10 cents each! Avocados grow on oversized trees compared to other fruit trees and I had to wonder how the pickers can reach the fruit.
The best part of this day was at the end. We were camping at the Waihi Motor Camp which is situated in a lovely green spot with hills and trees all around and bleating, fluffy, white sheep on the hillsides. It was so beautiful! The campground is for sale and some of us wanted to chip in and buy it right then and there. Inge had arrived in camp just in time to take the last cabin which had four beds, room enough for Inge, Joan, Sharon and me. Yet again we were spared tenting! To make this campground even more perfect, there was a laundromat with no one waiting in line!
Dinner was the frosting on the cake! Grandpa Thorn's Restaurant was just a stone's throw from the cabin and can Grandpa ever cook! It was a gourmet meal from beginning to end. Luscious. Pasta with three sauces, each one excellent, fresh green beans and carrots cooked just enough to still be bright green and bright orange and interesting to chew, awesome salads, and chocolate mousse and fruit salad for dessert! With whipped cream! Oh my!
Goodbye, Alice
---
Today's Music

---
New Zealand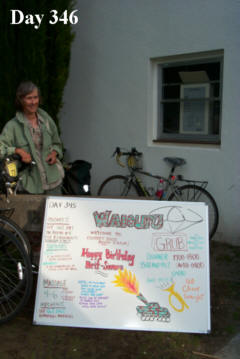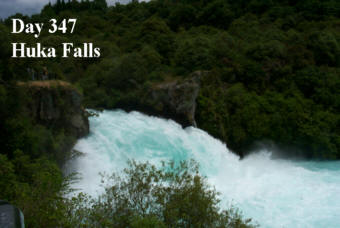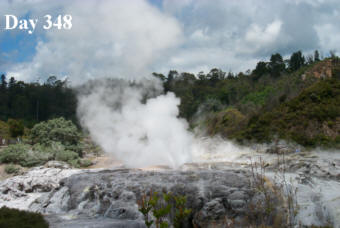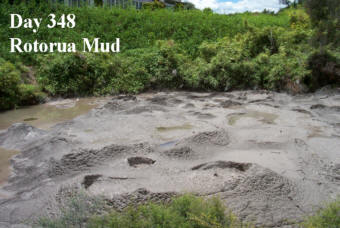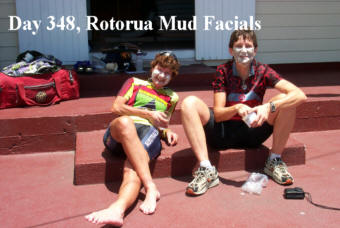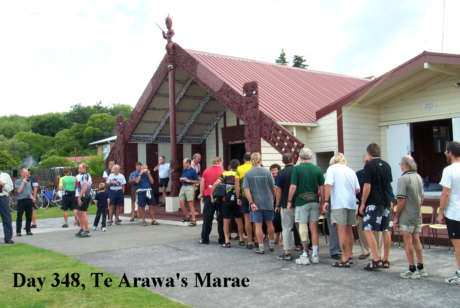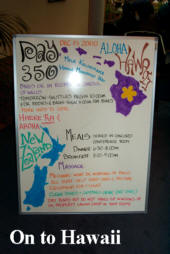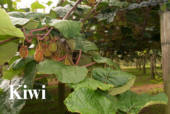 ---
Previous Page (Page 99) Next Page (Page 101)